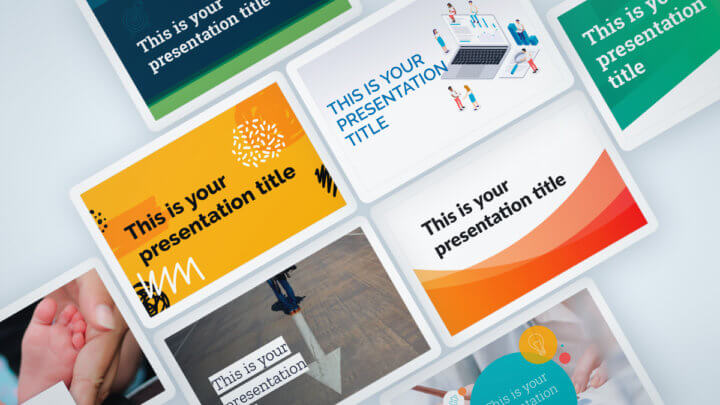 When PowerPoint was first released in 1987, it was a game-changer for presentation design.
Before PowerPoint, decks were mainly done by hand — presented via a clunky piece of kit called an overhead projector — and could be both time-consuming and expensive to create.
Since then, several presentation software programs have come along, giving professionals and hobbyists more power and creative freedom than ever before.
And within that bunch, Google Slides is arguably one of the most popular today.
Google Slides has become a top PowerPoint alternative (along with Apple's Keynote) for a few reasons. For one: it is completely free. But it's also very user-friendly, and it allows for super easy collaboration across people or teams. Google Slides makes it possible for pretty much anyone to create a great presentation, whether it's meant to close a business deal, increase your chance of promotion, or help students grasp a complex subject area.
What's more, Google Slides has thousands of ready-made presentation themes to choose from. And herein lies the problem: there's almost too many options to sift through — a quick browse of the Google Slide themes might just leave you feeling overwhelmed.
True: excellence in theme design isn't easy to find. So we found it for you!
In this article, we've rounded up the best Google Slides themes for 2020, broken down by industry. Each of these Google Slide themes is on-trend, and selected with our users' preferences in mind. So trust us when we say that these Google Slides themes will enable you to create a professional presentation within minutes.
Ready to get started?
Best Google Slides Themes for Business Presentations
Let's get down to business.
When you're standing up in front of a client, business partner or corporate team, you want to be taken seriously. And the fastest way to undermine trust and confidence in your presentation is with a confusing or sloppy deck design.
But, when done right, business presentations can be a very effective tool to present projects, reports, sales results, or business pitches to groups and individuals. In fact, it's estimated that more than 30 million presentations are given at work, each day!
So how do you use Google Slides to create compelling, trustworthy and authoritative business presentations?
There are a few things to consider you need to consider.
Business presentation themes require a professional look. Just as you want to look well-put-together when giving a presentation, your slide theme should as well. This means avoiding any seriously outlandish color schemes and typefaces which appear too informal or childlike (Comic Sans, we're looking at you!).
Plus, your chosen Google Slides theme also needs to be easily adaptable to your corporate identity — adding in your company's logo, and using your particular brand colors and fonts can go a long way.
The themes we've chosen below help you to do just that!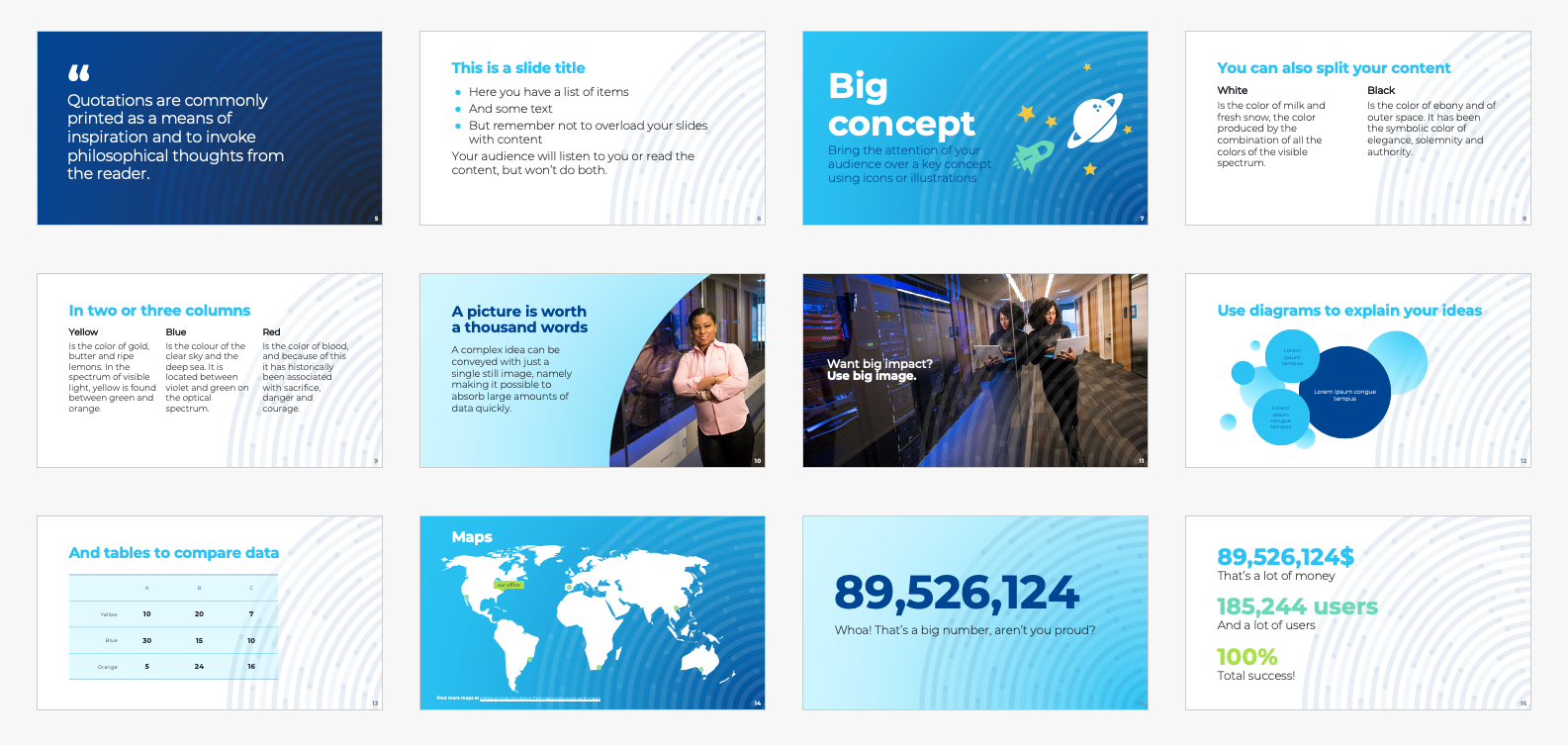 This is a design that has a slightly scientific look thanks to its concentric circles background. You'll be able to customize it easily, as the color blue can be changed to use the primary color of your brand identity. This theme will fit perfectly into your talk if you're going to lecture about big data, blockchain or other science & technology topics.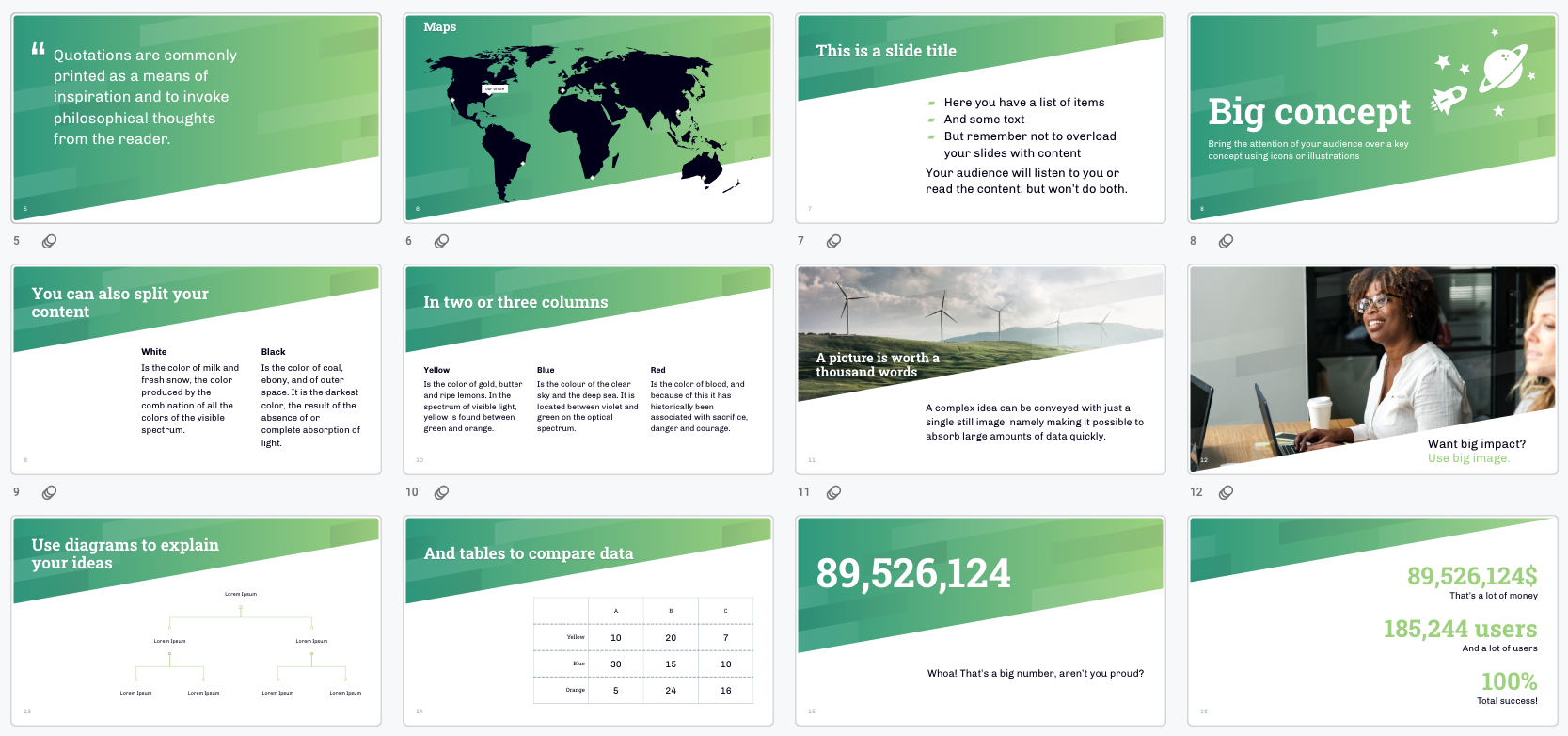 Create a presentation that will meet the latest design trends with this multipurpose template. With inclined shapes that give a dynamic look and work with any background color.
---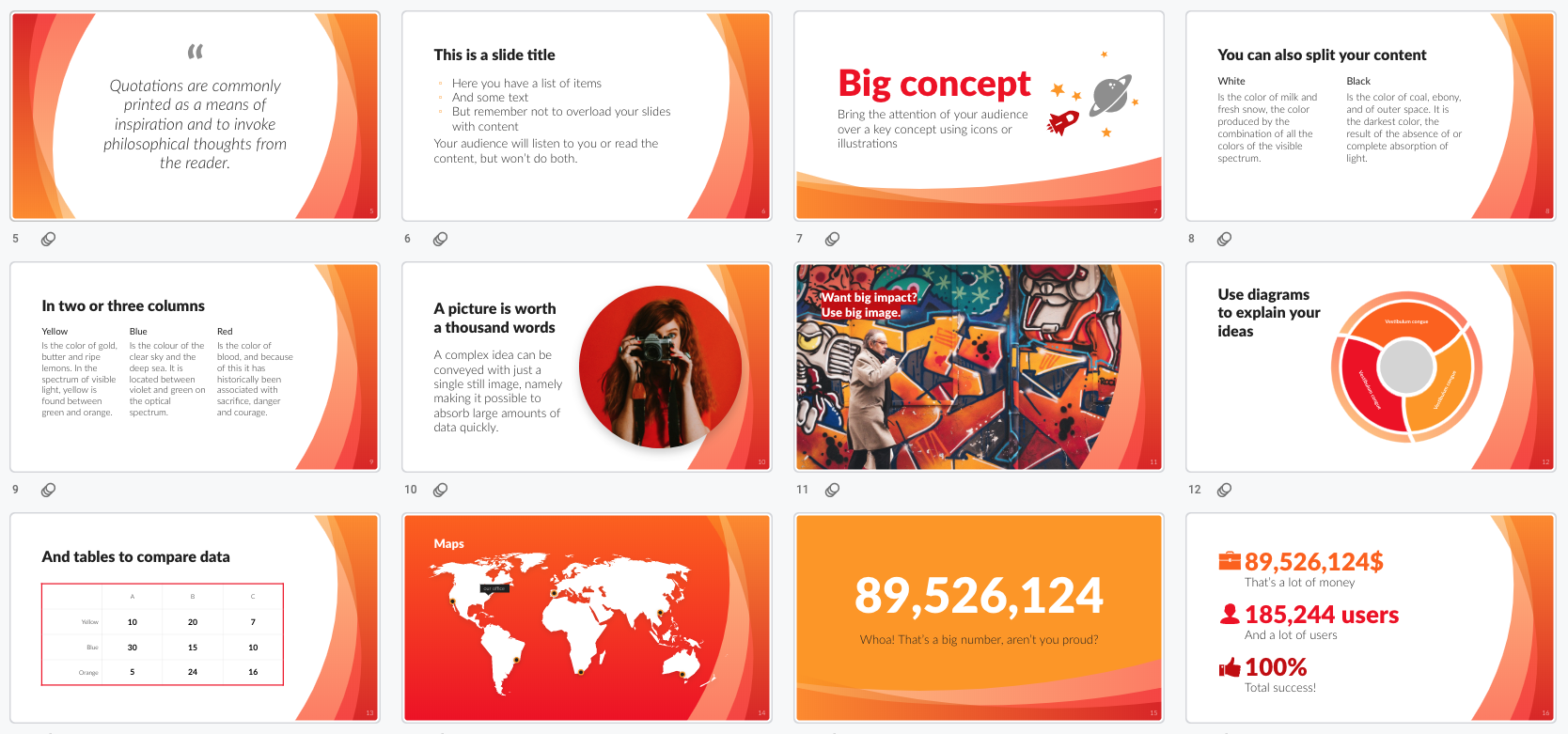 Create a corporate presentation that meets the highest design quality standards with this multipurpose template. The dynamic and colorful waves give a modern look to this theme. Use this template on your next annual report or business action plan.
---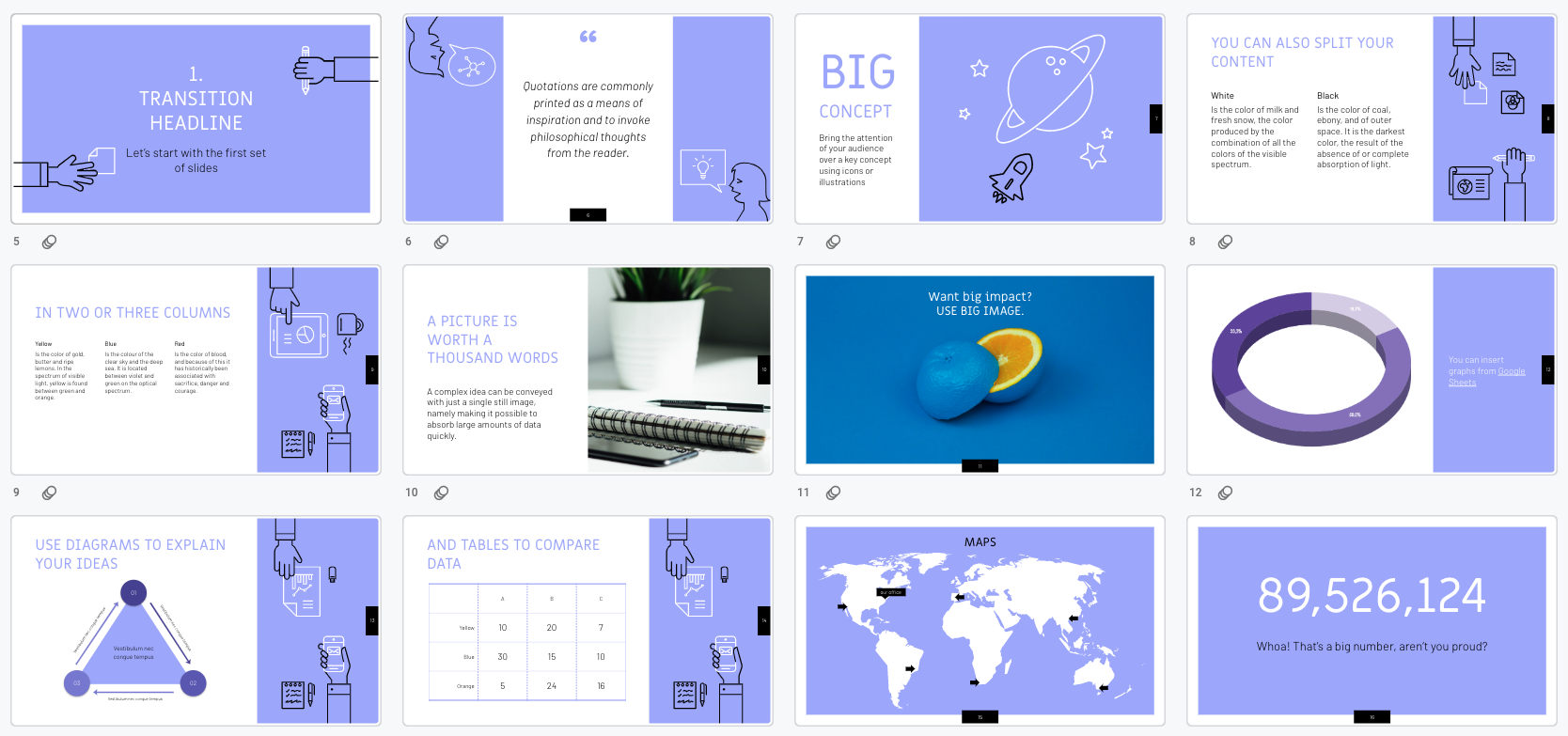 Design a presentation that will meet the latest design trends with this multipurpose template. With illustrations that represent teamwork this theme will fit a keynote on business planning or a new project proposal.
---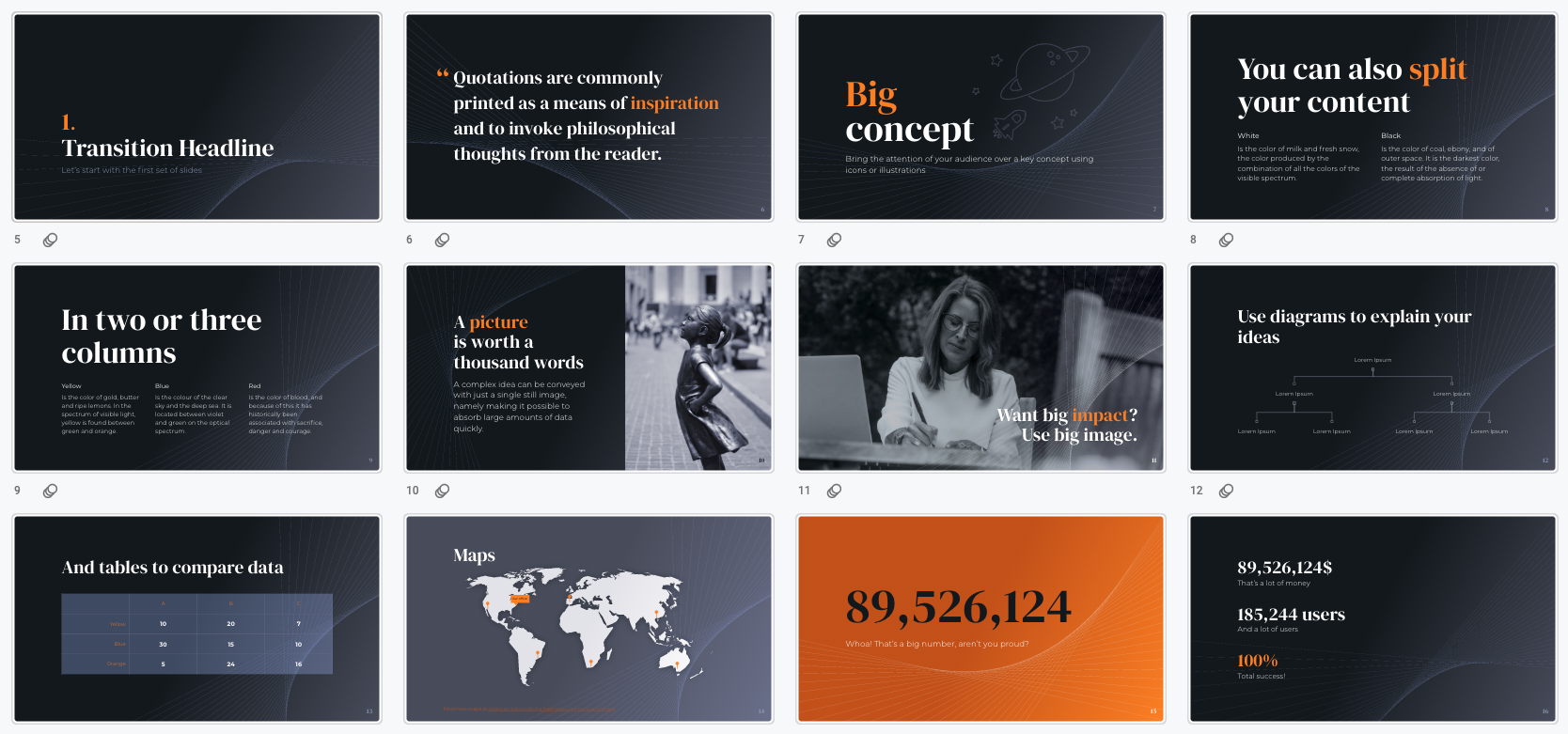 Create a professional Google Slides for your business presentation in a few minutes. This free template shows a minimalist but elegant design with geometric lines and dark background. Engage your audience in your next business presentation with this design perfect for reports, business plans or project proposals.
---
If you need to make a professional corporate deck you should use this template. The green and blue color palette gives credibility to your message. Impress your colleagues, boss or teacher effortlessly with this design.
---
Best Google Slides Themes for Pitch Decks
Choosing the right design for your pitch deck is of vital importance. A great pitch deck helps you sell your business to the world, emotionally engage via brand, and convince investors to believe in you.
Therefore it's crucial that your pitch deck stands out — both in ideas and design — for all the right reasons. And you want to choose a presentation theme that makes a great first impression.
But your pitch deck presentation theme should also allow for a little dynamism, to help convey your passion and energy and keep your audience wanting more. Look for a Google Slides theme that has varied layouts and graphic elements, to showcase your vision, mission, products, and offerings.
Here are our favorite free Google Slides themes to help you convert your venture idea into a reality.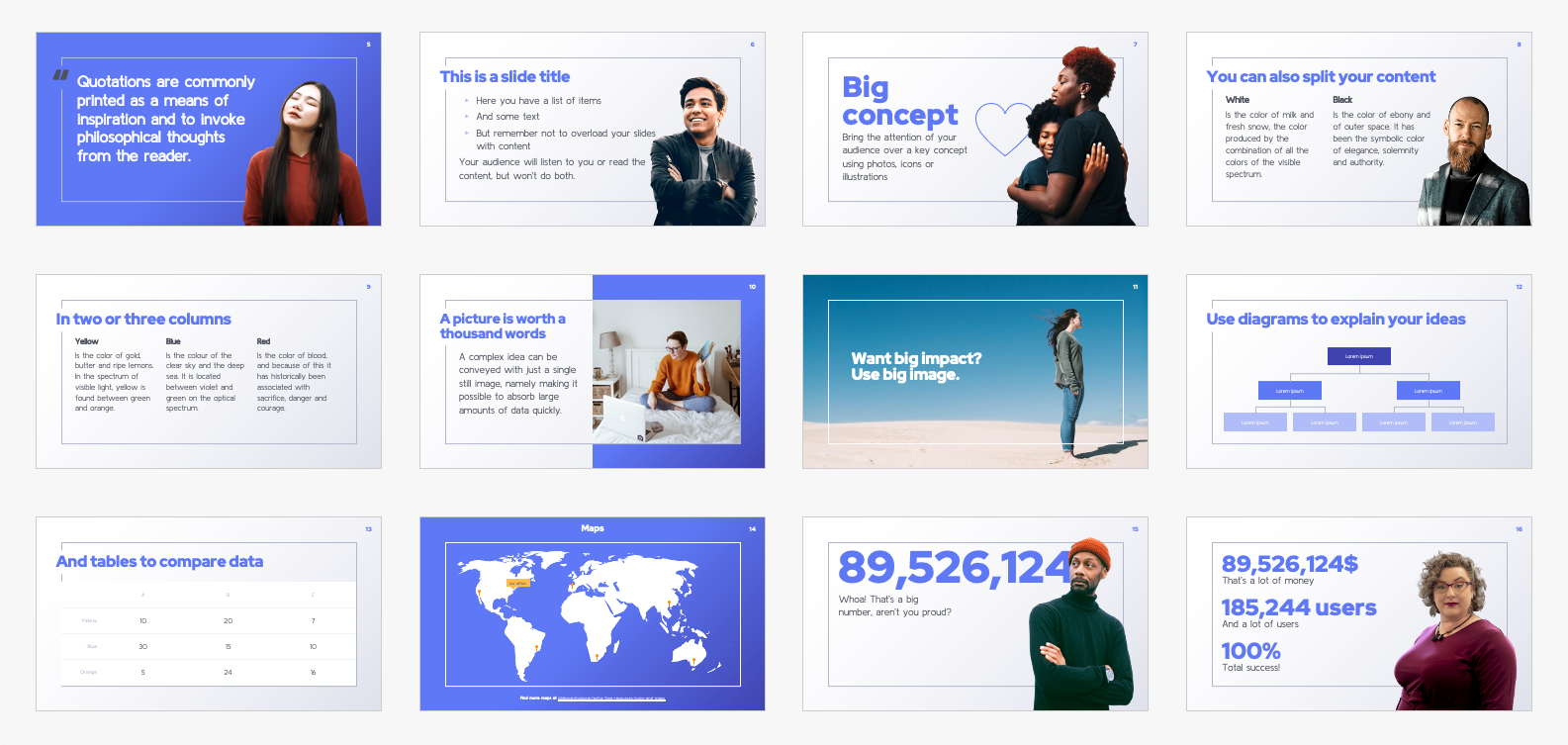 This professional template has a minimal design with a hint of color and it's easy to adapt to your brand. But what really makes it stand out are the images of diverse people that are integrated with the slides. This theme has got everything you need to create a trendy presentation about marketing, human resources or an impressive pitch deck.
The circular shapes used in this template give a modern and dynamic appearance. Besides, it only uses black and white color so it fits any corporate identity. With this multipurpose theme you'll make a professional pitch deck in half the time!
---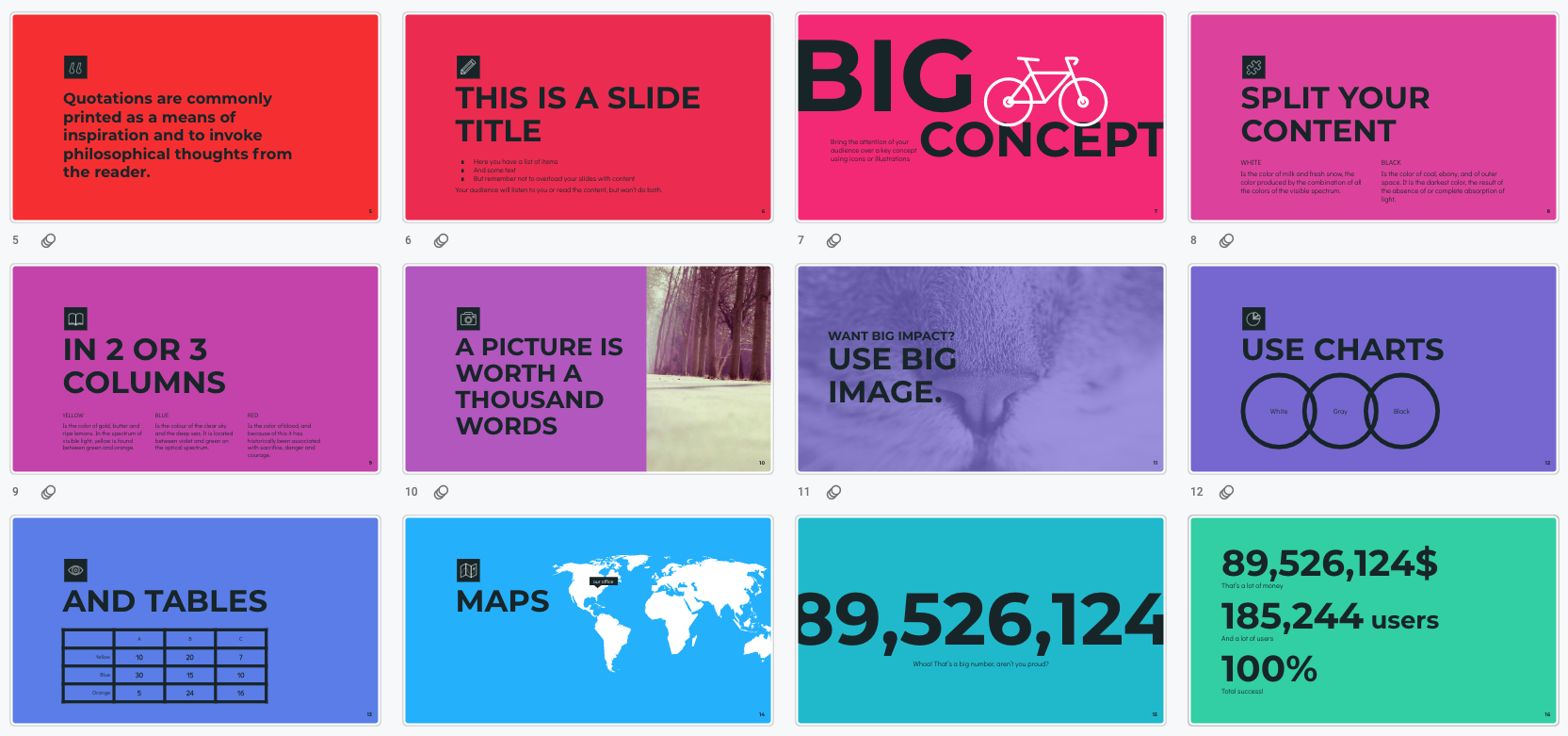 Don't be fooled by its dark cover, Ganymede is one of the most colorful free presentation templates at SlidesCarnival. With some surprising layouts and very big titles it has a really modern look and feel. Your startup elevator pitch will leave a mark with this design.
---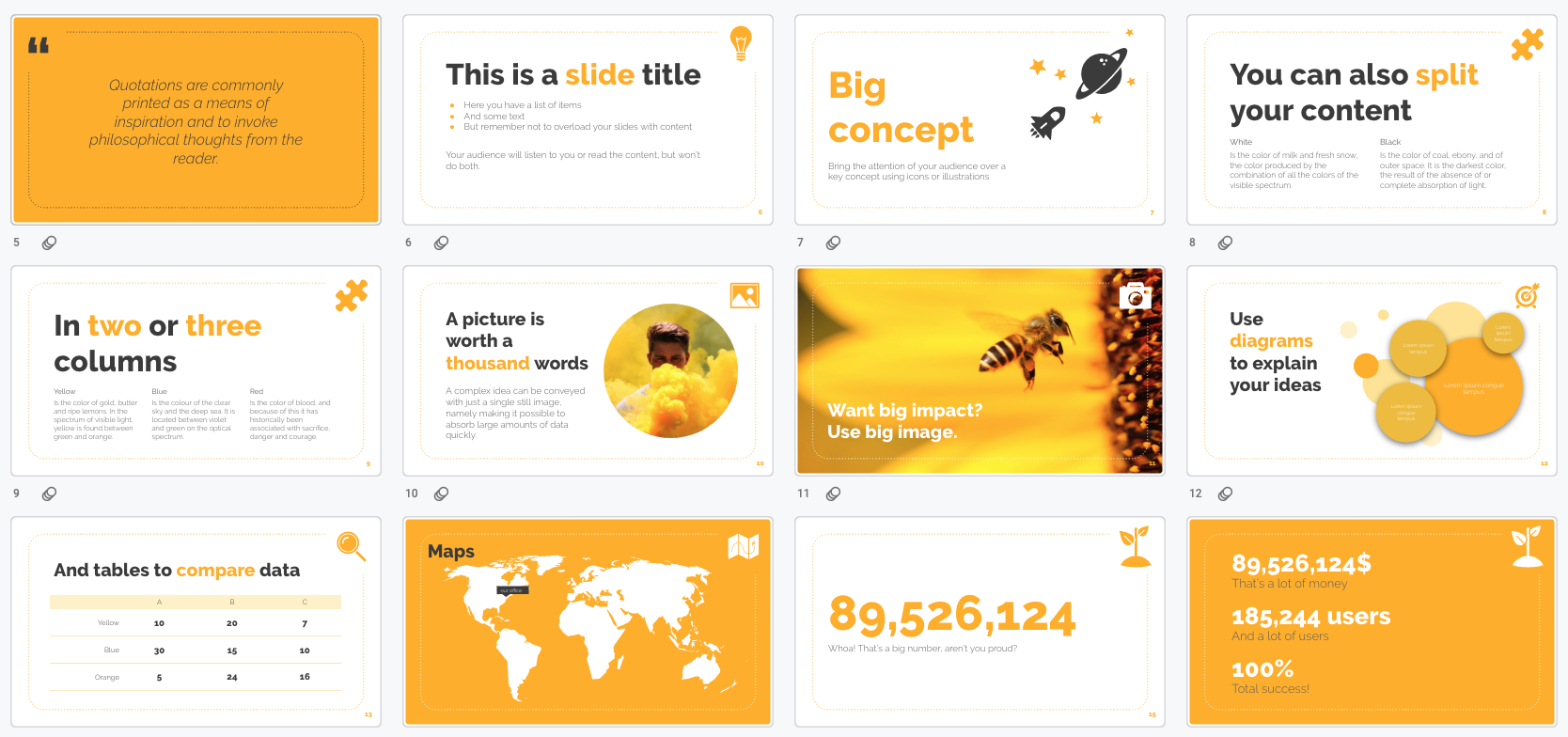 Have an engaging and professionally designed presentation ready in minutes. This free template offers a simple and fresh design with lots of slide layouts to choose from.
---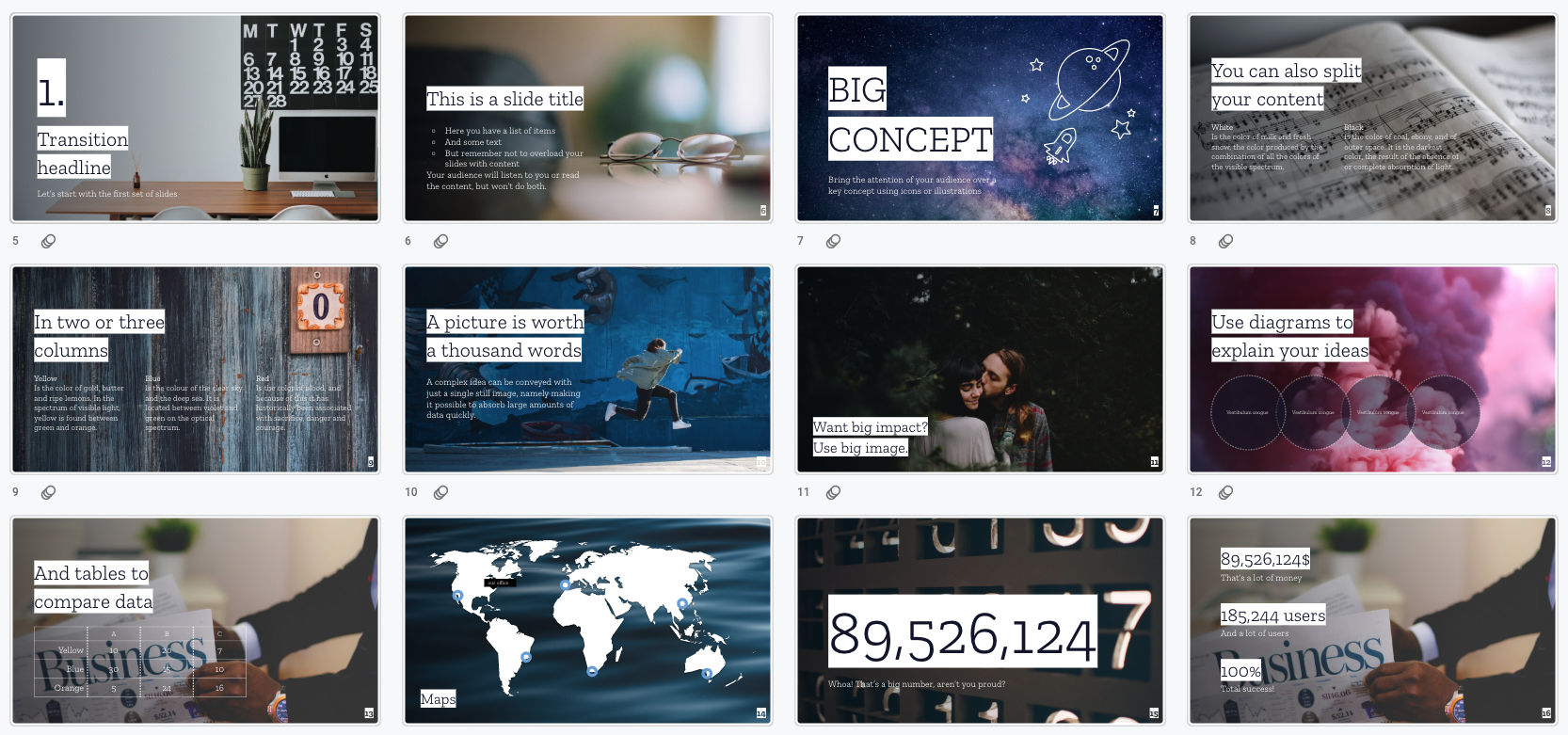 Engage your audience while presenting by using this photographic free theme. To get the most out of this template keep your slides with little text and it will help you tell your startup inspiring story.
---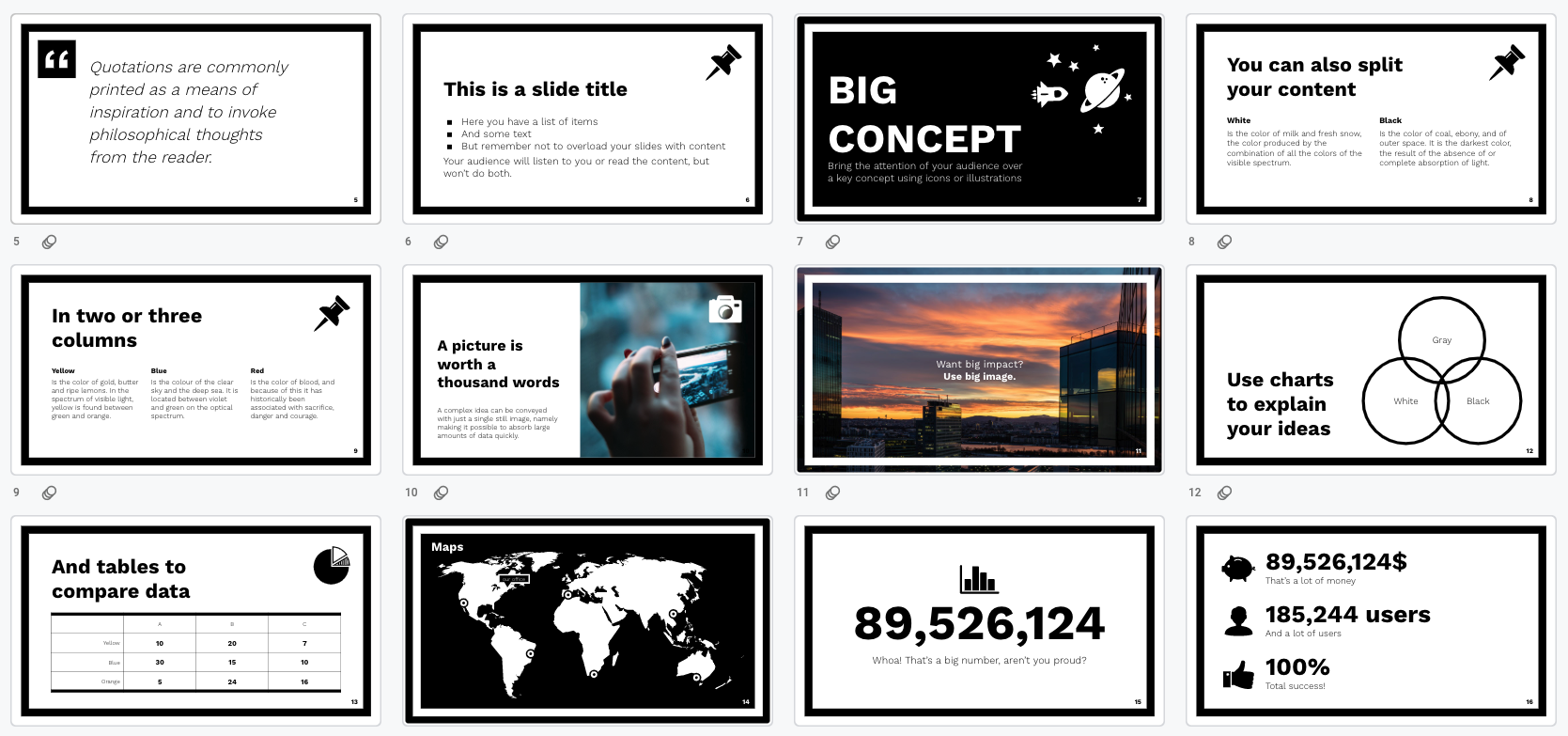 Make a professional presentation without spending time on getting your slides designed. This theme is simple to setup, simple to work with, and simple to understand so you can focus on the content of your pitch deck.
---
Best Google Slides Themes for Education
Did you know that quality visual presentations can enhance understanding by more than 400%, and actually help students absorb the material better than a verbal lecture alone?
That's the power of presentation design!
And a fun, out-of-the-box, Google Slide theme can help you deliver your lecture or lesson in a memorable and interesting way — truly resonating with your students, no matter their age.
Here are our top 5 favorite Google Slides themes for teachers and education professionals: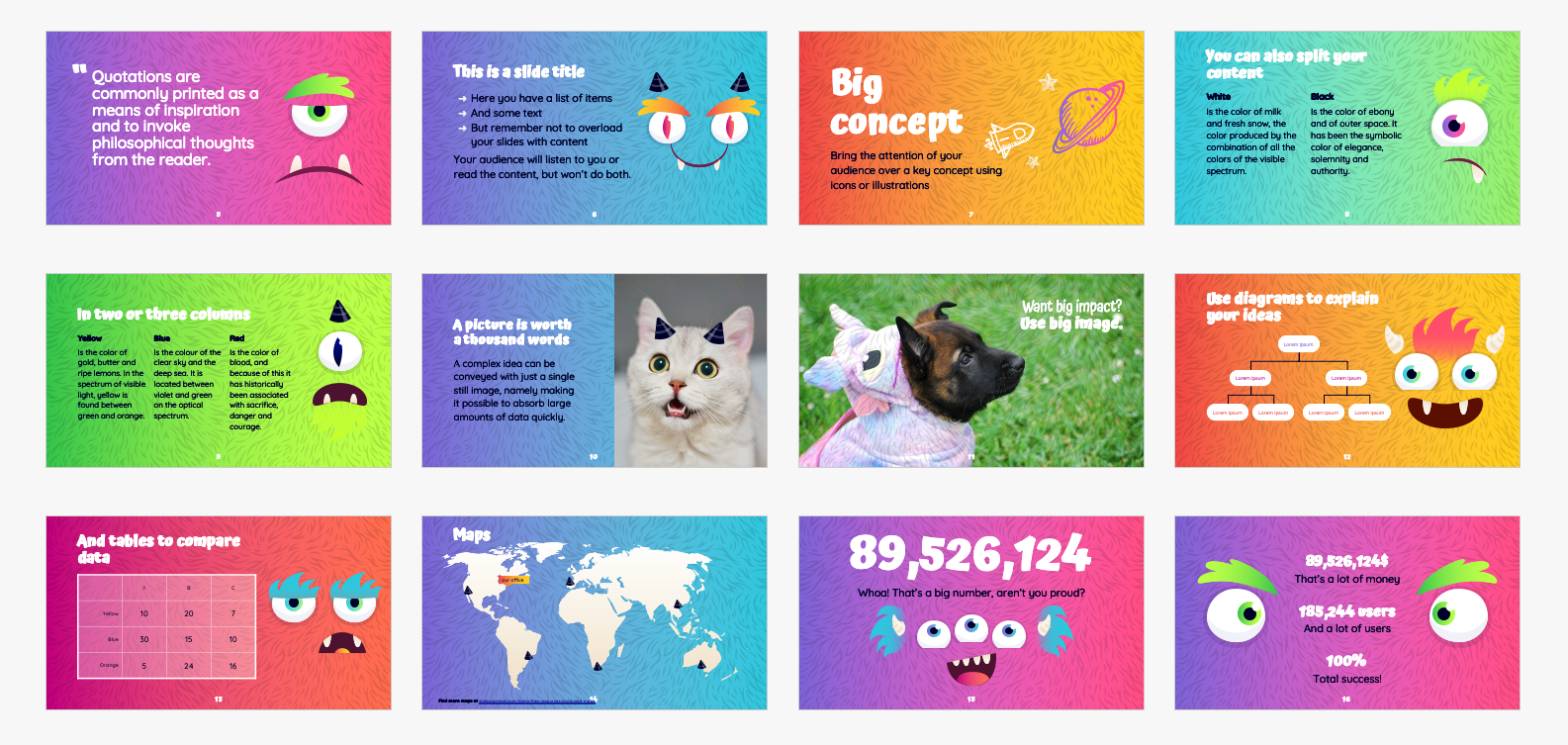 Children are the toughest audience, but with this fun free template you will have their attention from minute 1. Your presentations will never be boring again if you use these colorful monster slides. You can even build your own monsters with the resources included!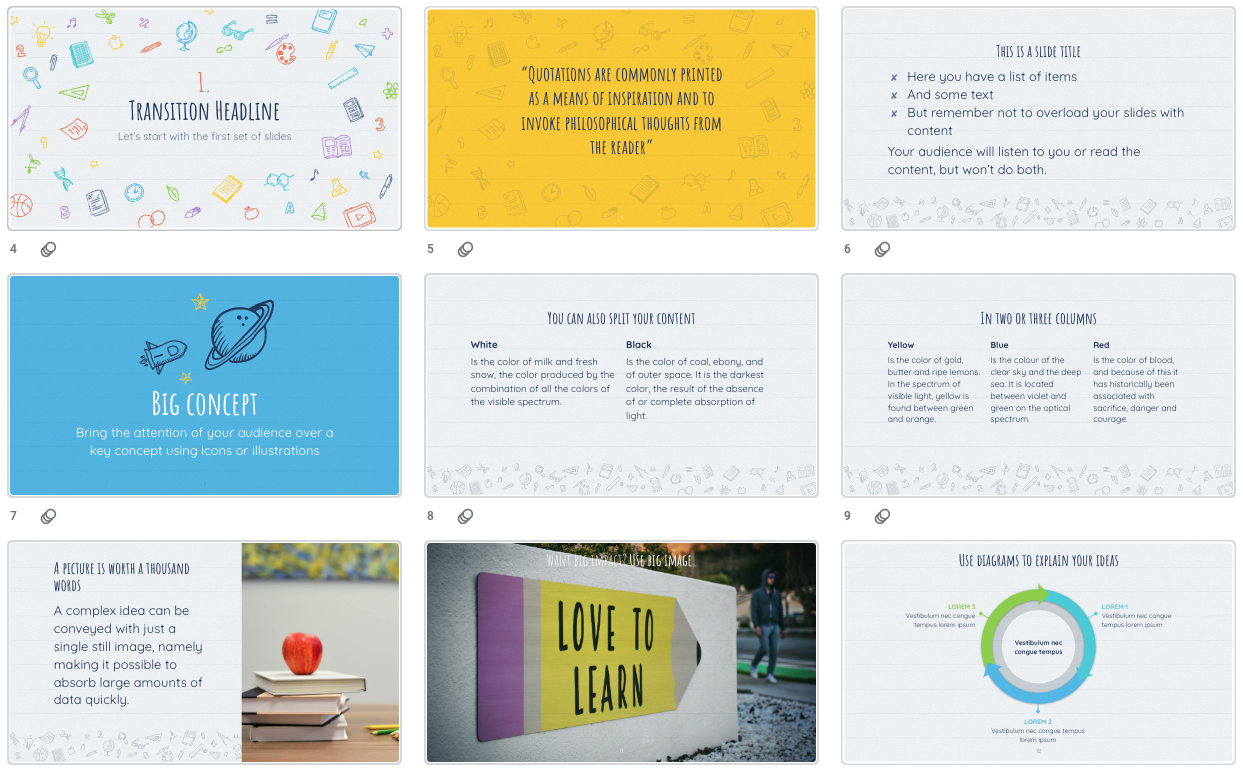 Put together an educational presentation in minutes with this easily customizable theme. With its hand drawn school icons and bright colors it will keep the kids attention in your lesson. Use this template in your next class or if you have to make a presentation on education.
---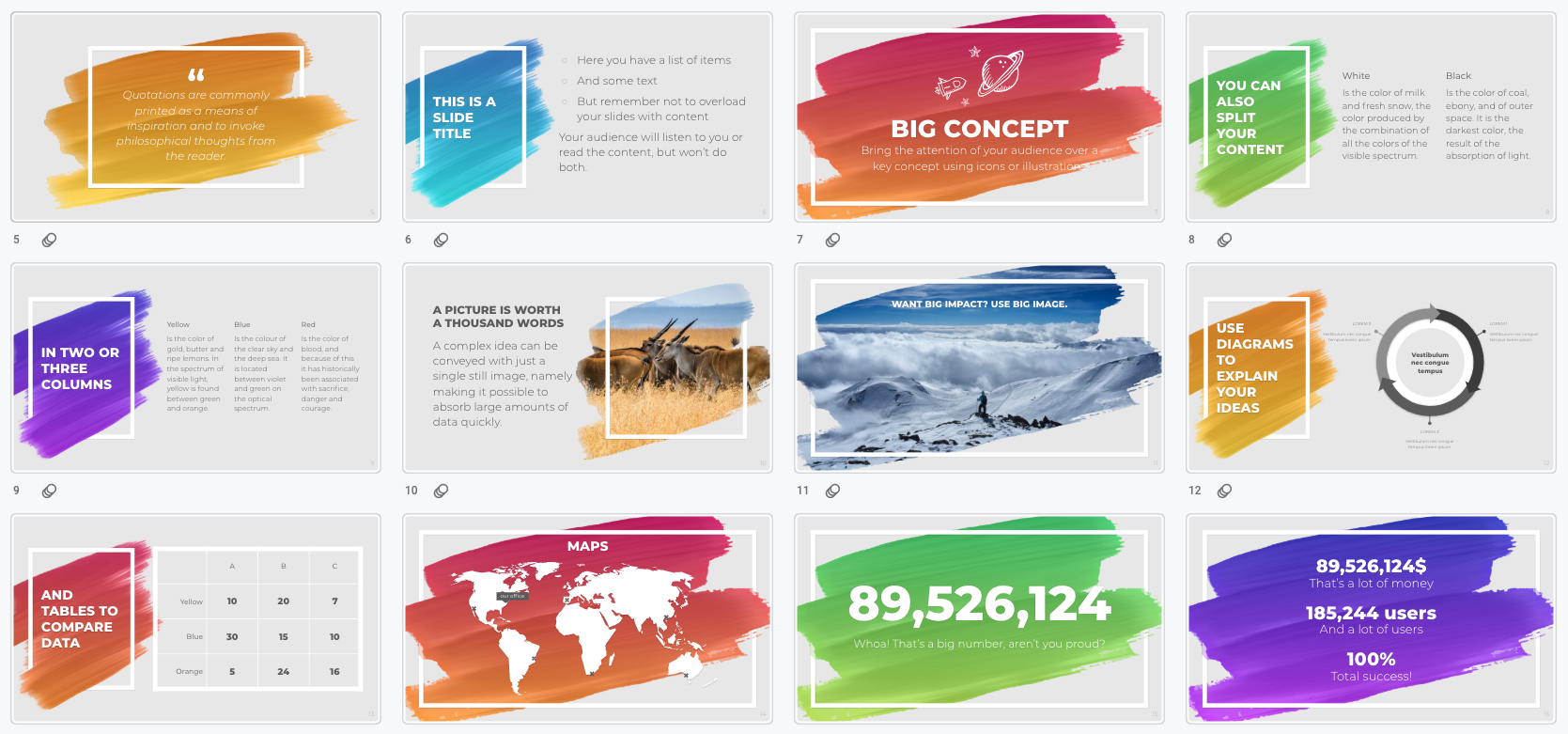 Use this original template and inspire your audience to be creative with your presentation. It shows a framed brush stroke that adapts to any color! Use it to talk about creative thinking, art, innovation or even personality, psychology, emotional intelligence…
---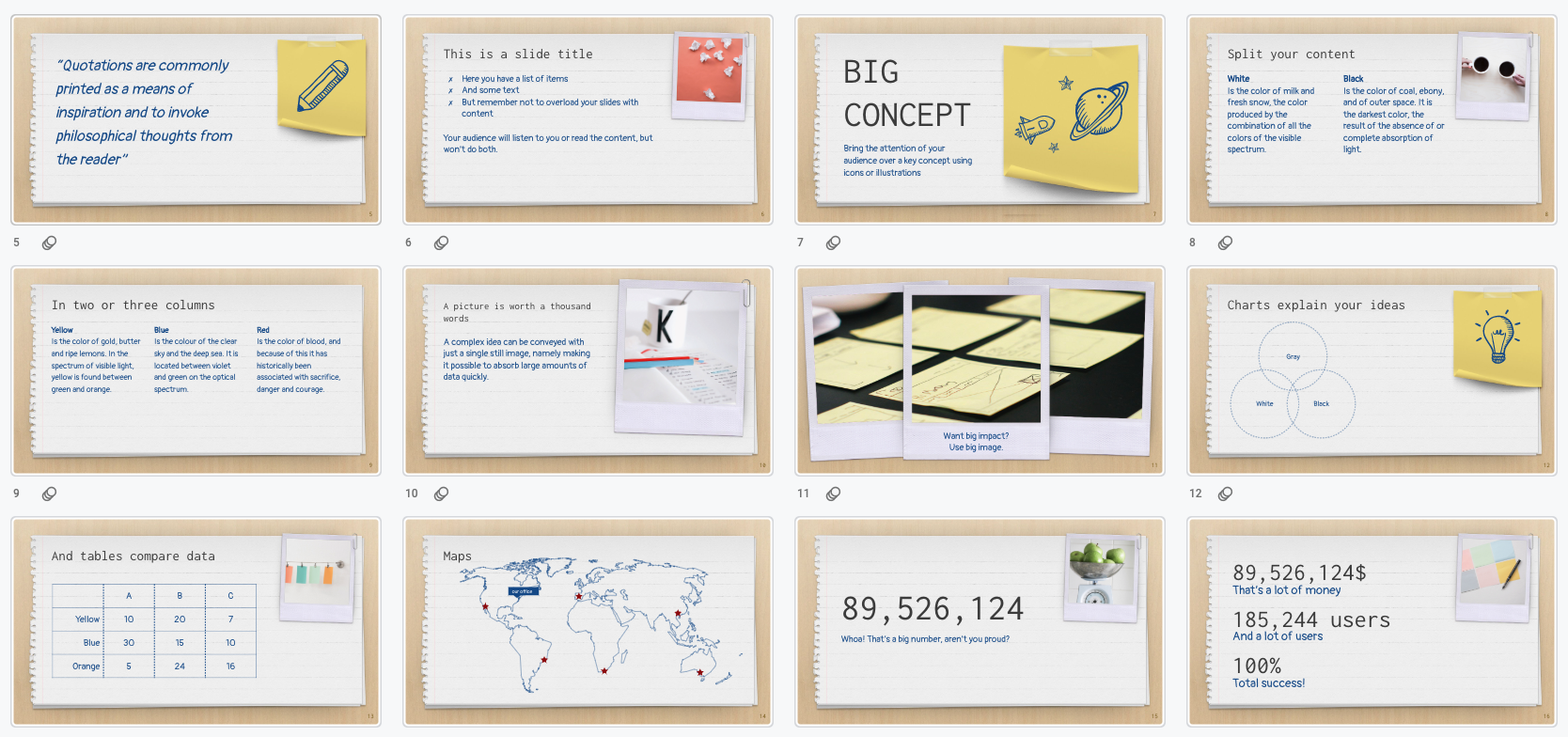 This free design mimics a paper sheet with polaroid photos and post-its. It's a theme really fun to use in educational presentations, to explain your lessons or a creative project in your class, although it's also suitable for conferences.
---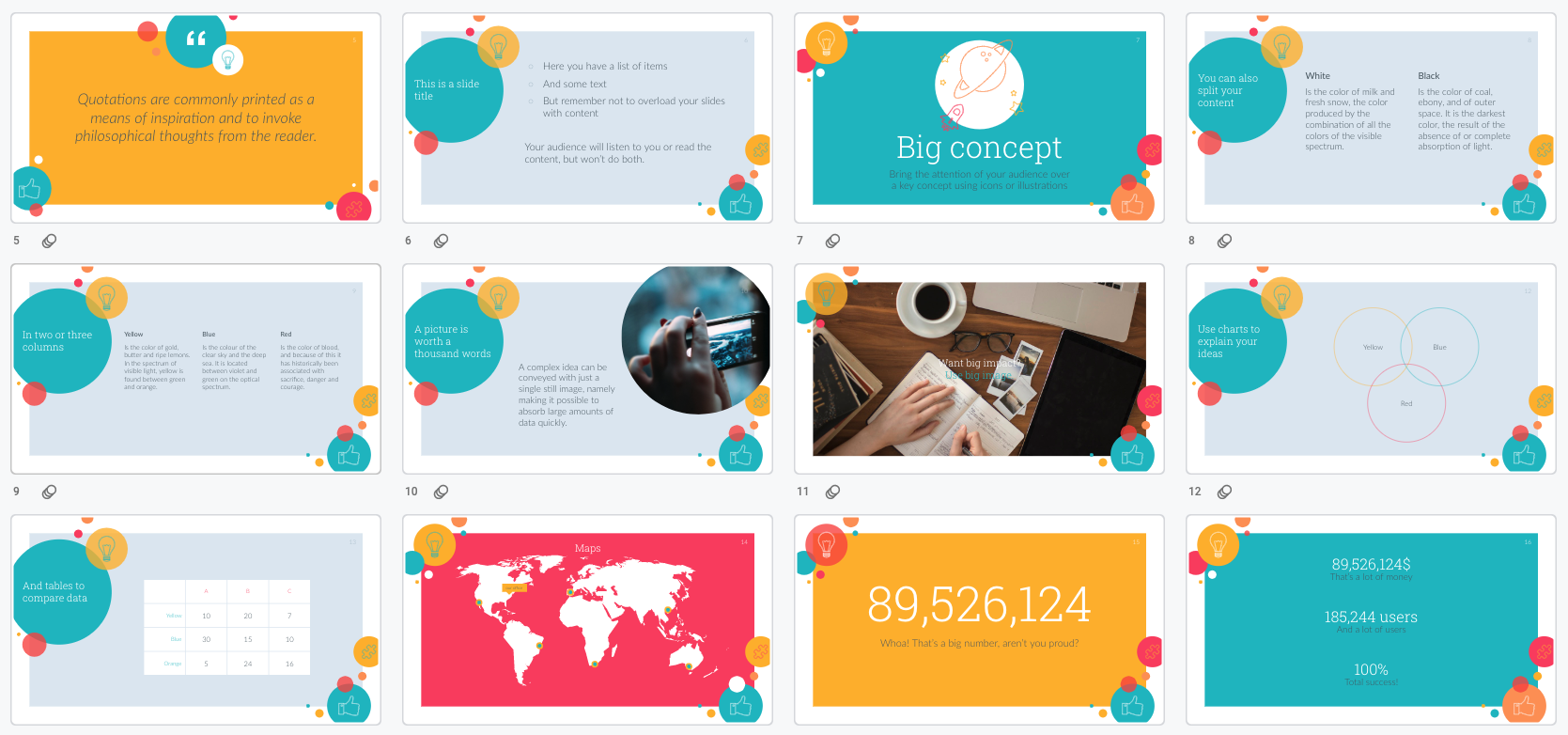 This theme has bold and lively design for your presentations with a playful pattern of circles and icons. If you're looking to enliven the audience and convey a positive and cheerful message this template can help you.
---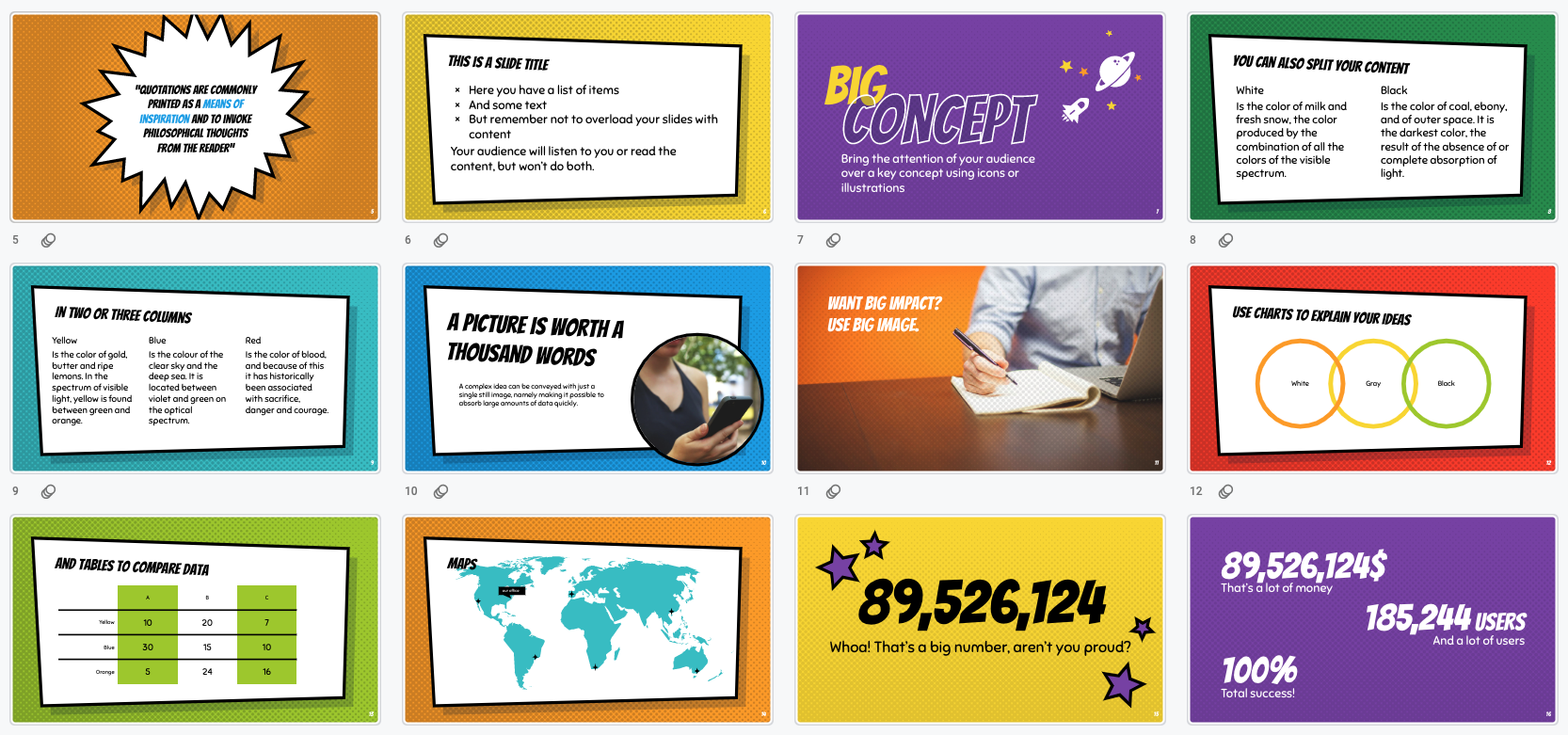 This presentation theme is really fun, with a design inspired by comicbooks. It is great if your presentation has a strong storytelling and you want to surprise and engage your audience.
---
Best Google Slides Themes for Marketing
We all know how significant brand colors are for organizations.
And marketing presentations are just an extension of this. These decks must be visually stimulating, persuasive, and should feature graphic elements which help deliver the message you're sending across.
So what are you trying to say with your brand and marketing presentation?
Perhaps you're sharing the results of a recent marketing campaign, in which case you should be bold and proud of what you've achieved. Here, a modern design, with attention-grabbing photos and illustrations, will make your content pop.
In other cases, you might be updating the wider business team on how they can help support the marketing objectives. Here, something a little softer, which encourages collaboration and creativity should do the trick.
Just be sure whatever theme you choose has the correct feeling behind it, and that the design you select doesn't take away from your chosen topic.
With that in mind, here are our top choices for Google Slide themes to present a marketing plan, sell your services or communicate marketing results to a client: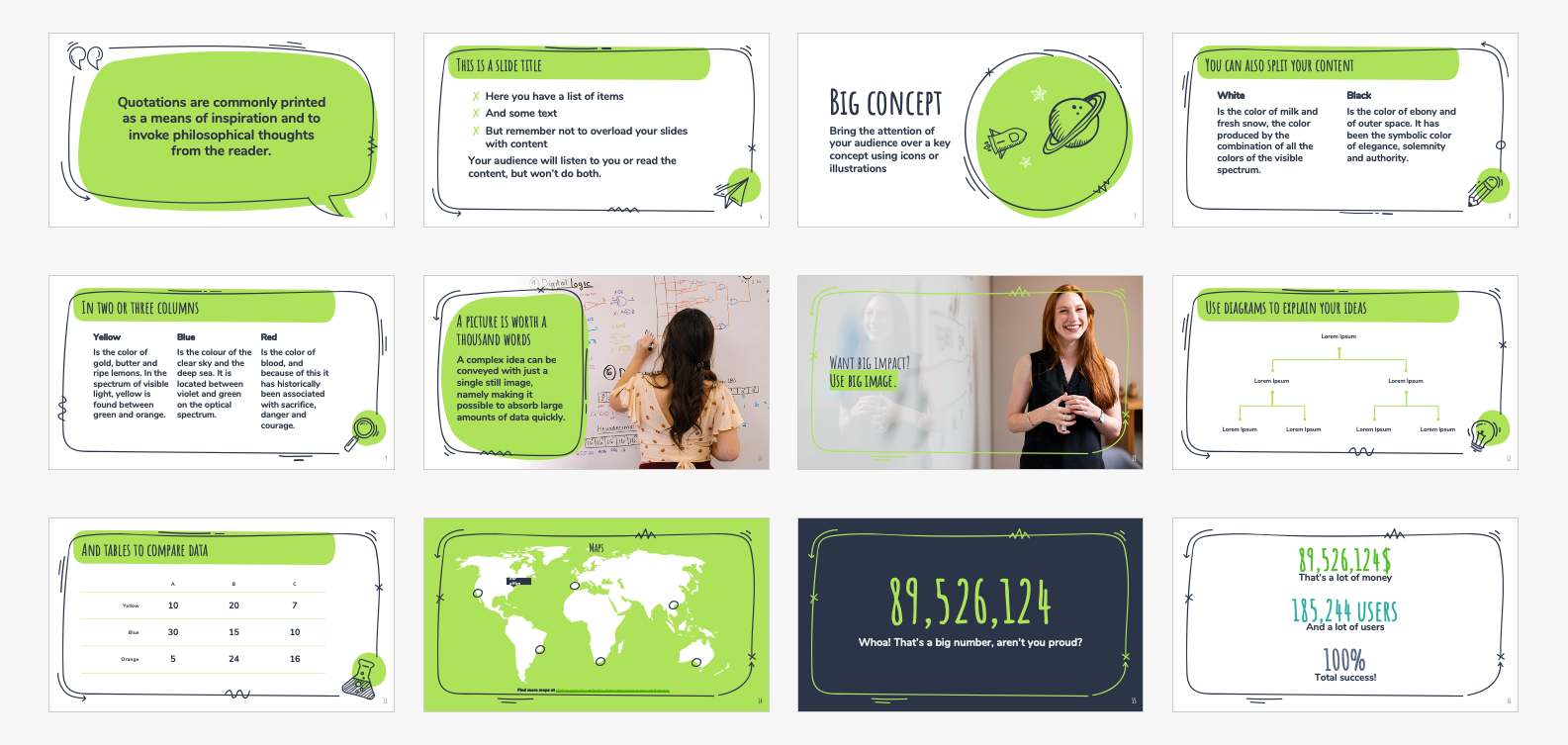 Put together a marketing presentation in minutes! There's an increasing trend of using visual techniques to better convey concepts, so this design mimics the kind of doodles you would draw on a whiteboard. Change the color easily to fit your brand and use the customizable icons and different layouts to highlight your content.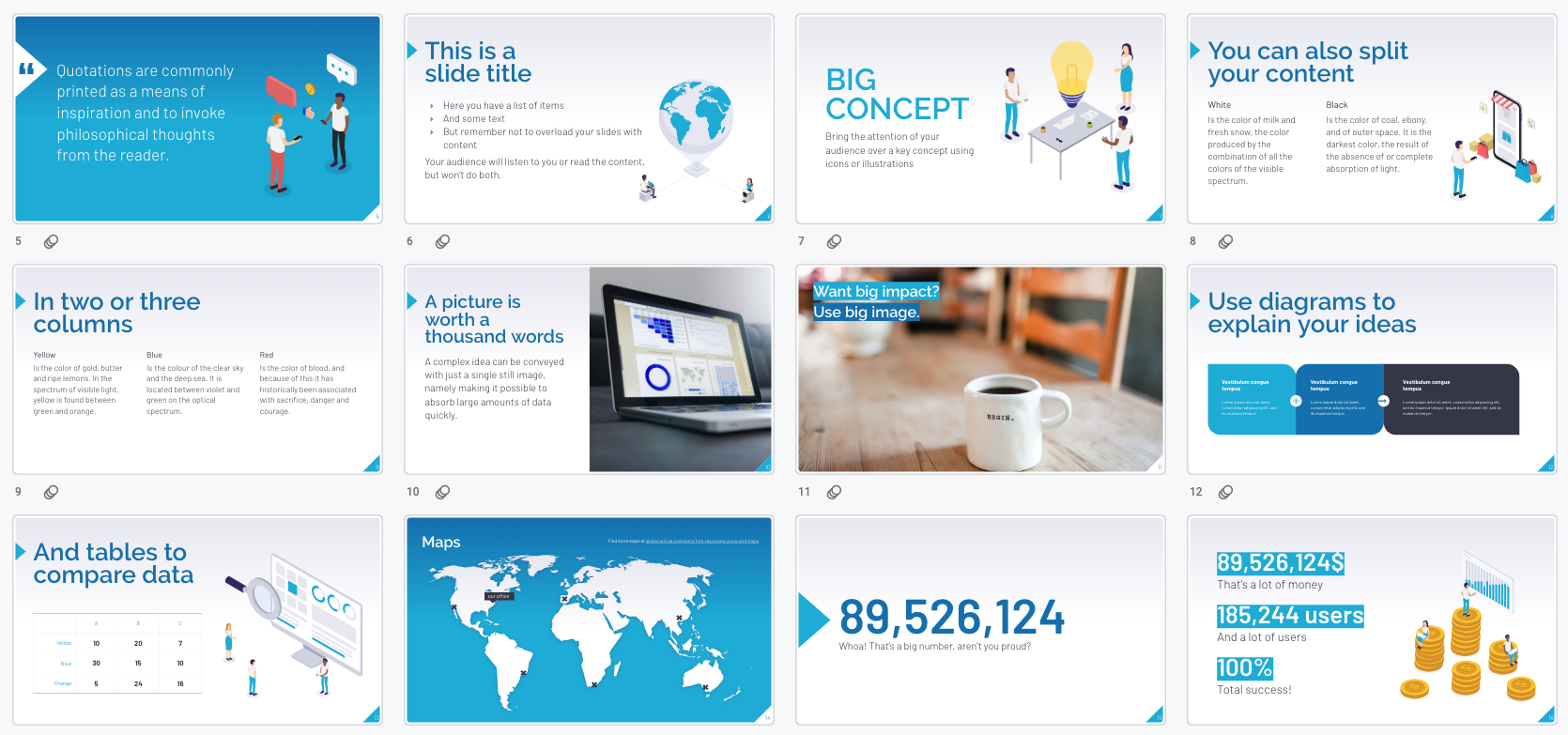 Download this free template to showcase your content like a professional. This design has isometric illustrations on business, marketing and technology topics. Use it in a working environment to present your marketing plan, media strategy or to pitch your next idea.
---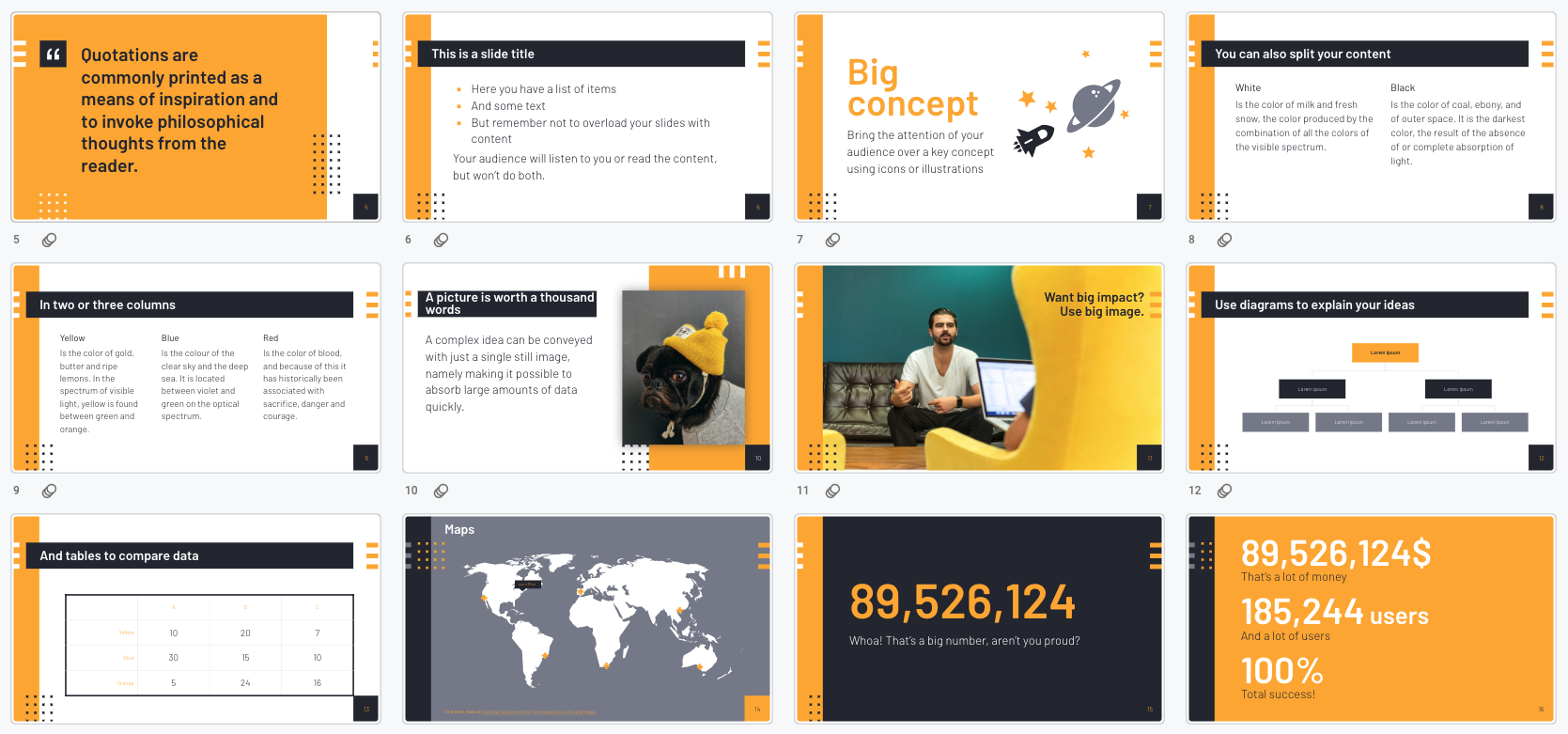 Use this free template with a professional design to get your message across. This modern theme will engage your audience through its geometric shapes and structure. It is perfect for use in a work environment, business plans, office meetings, pitch decks or project proposals.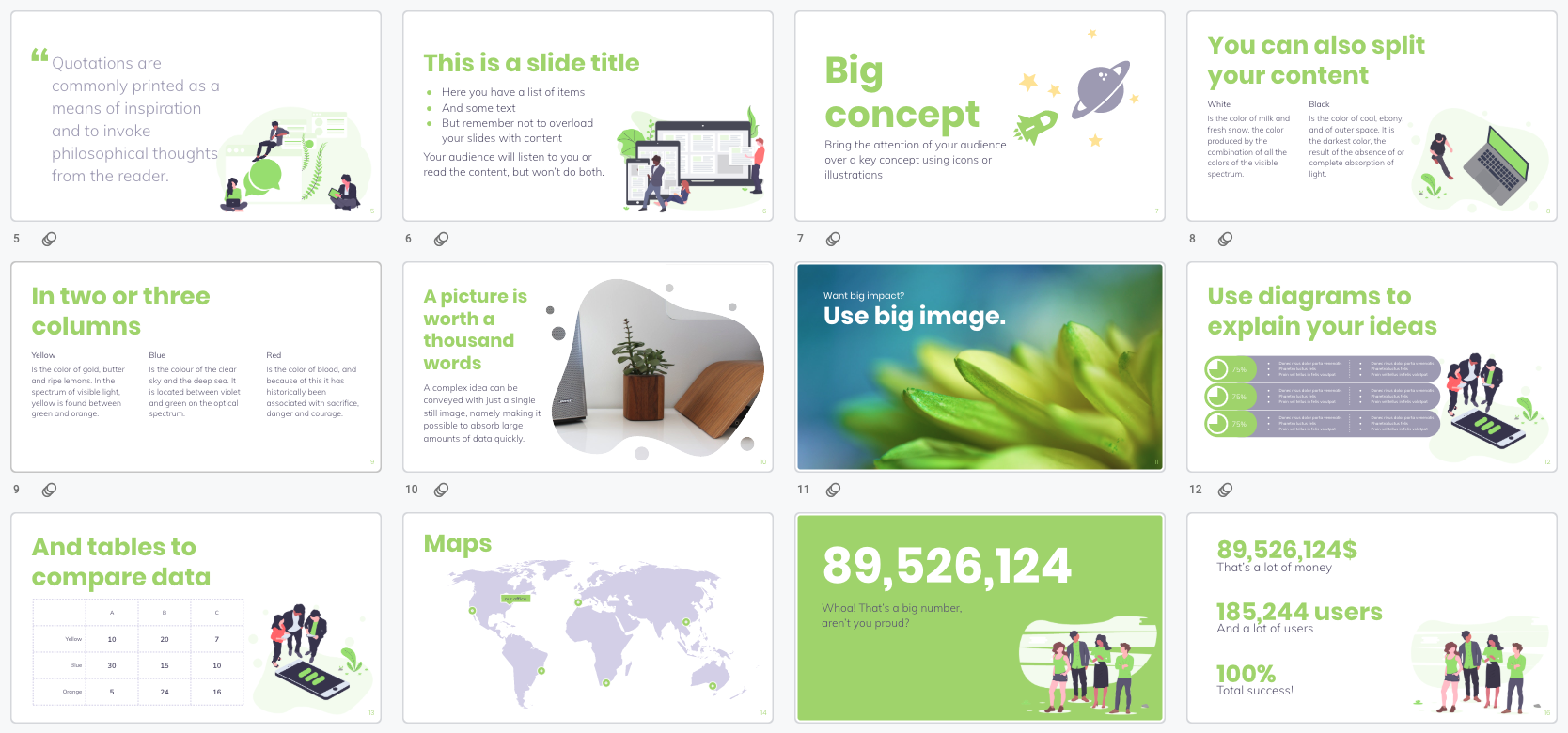 Create a deck that grabs everyone's attention with this multipurpose free template. Thanks to the teamwork illustrations this template will fit a keynote on social ads planning, your next marketing strategy or a new project proposal. Face your presentation like a pro with this illustrated theme!
---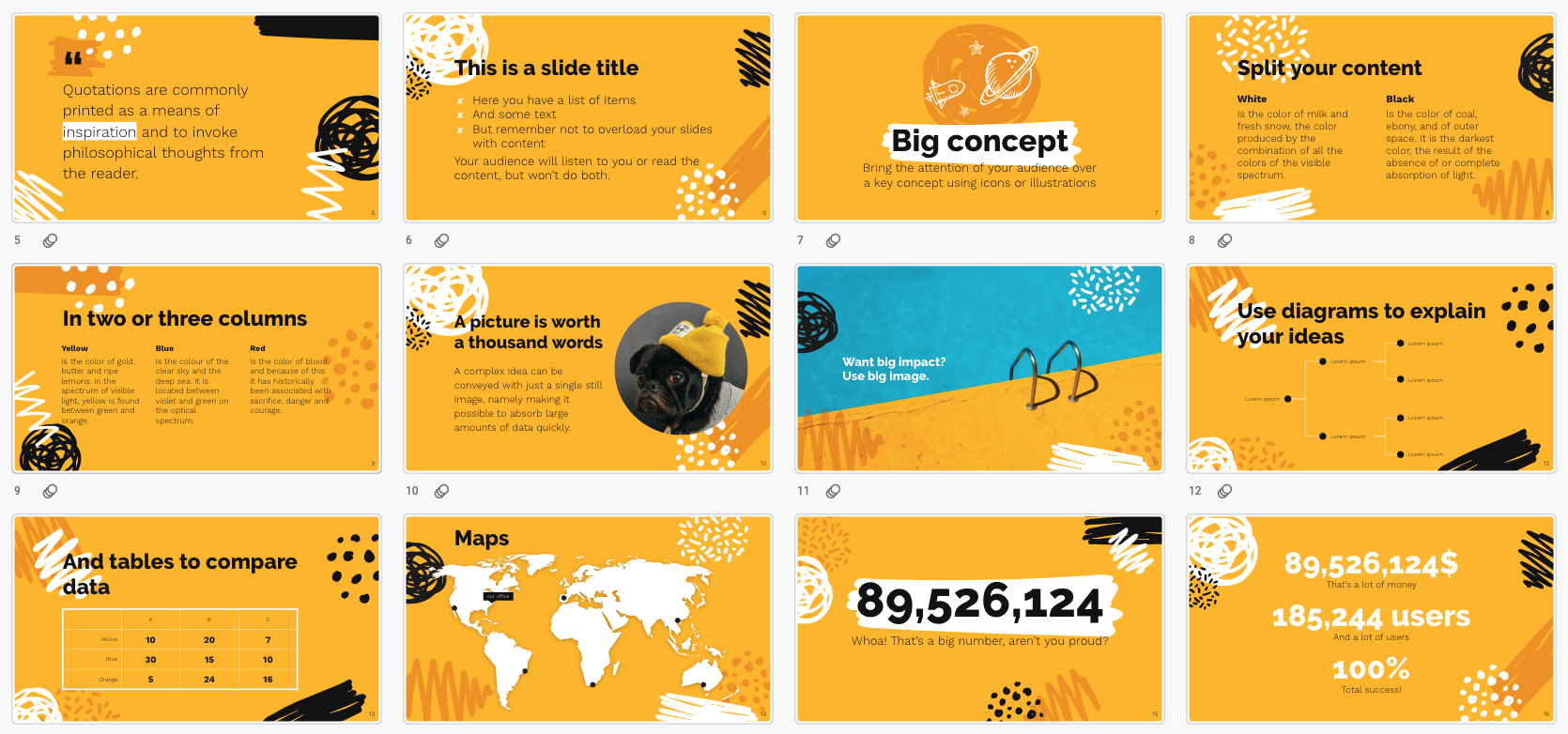 This free template shows a creative and fun design with hand drawn scribbles. Pick this theme to make a pro presentation in half the time, with its original look and bright color is perfect for talking about creativity, marketing, art or fashion.
---
If you are tired of templates with an overloaded design you're going to love this minimalist theme. With plenty of white space to highlight your content and catch everyone's attention. Have a pro presentation ready in minutes and impress everybody in your next meeting.
---
Best Google Slides Themes for Medical Presentations
If you are a health professional, we'd bet that your time is precious and scarce. The last thing you want to (or can afford to do) is waste time thinking about building the theme for your next big presentation.
When communicating medical information, the main objective is to be clear and reliable. You'll want to choose a theme that accurately portrays the message you're trying to share, while also conveying the serenity, trust, and professionalism that is associated with the health profession.
And because your time is limited, we suggest you start with this list of our favorites medical presentations.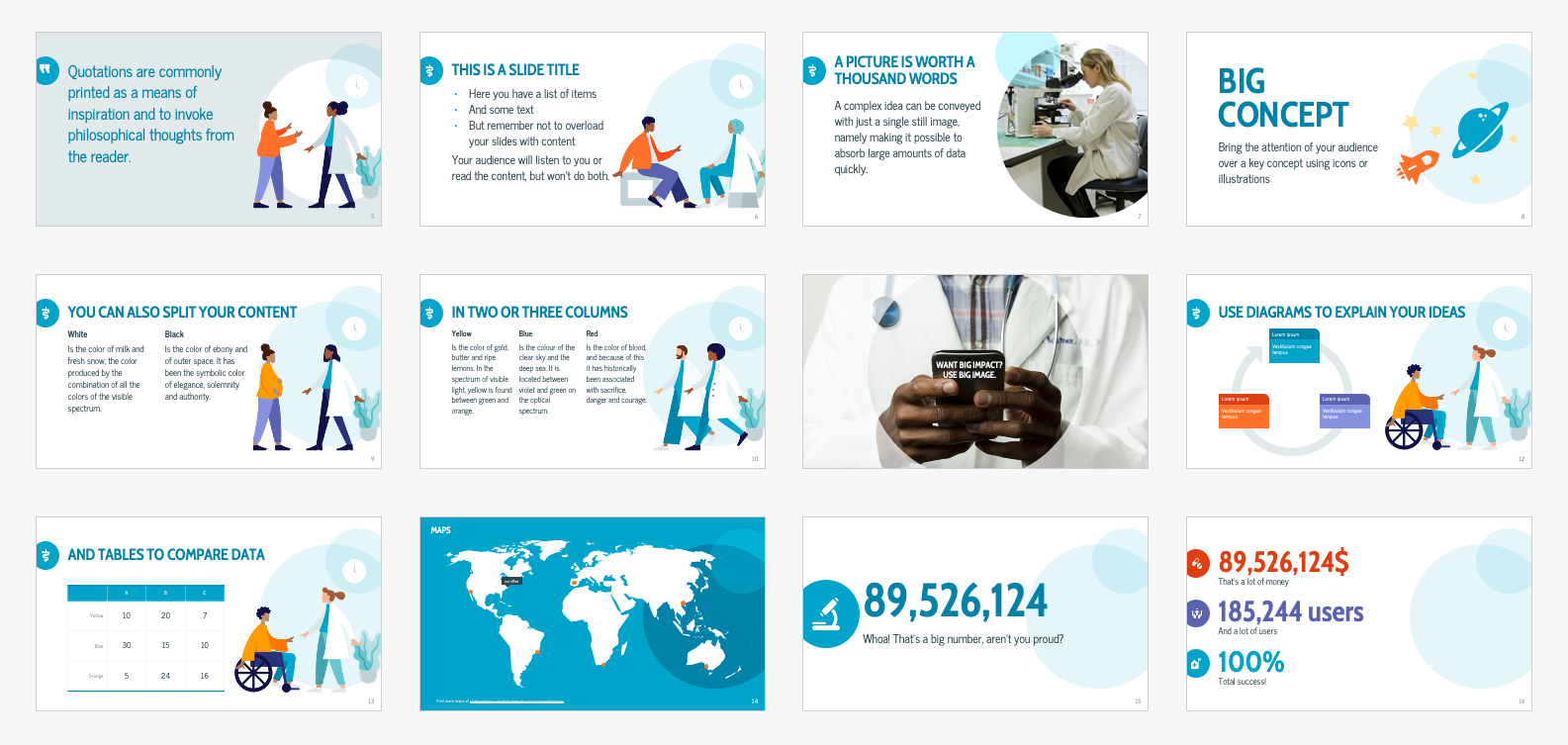 This clean free template is perfect for your medical decks. The design is simple, so your message will be conveyed without distraction and the illustrations of doctors attending patients will give your content a more human touch. This theme provides you with everything you need to present a clinical case, talk about a disease or explain the latest trends in primary care.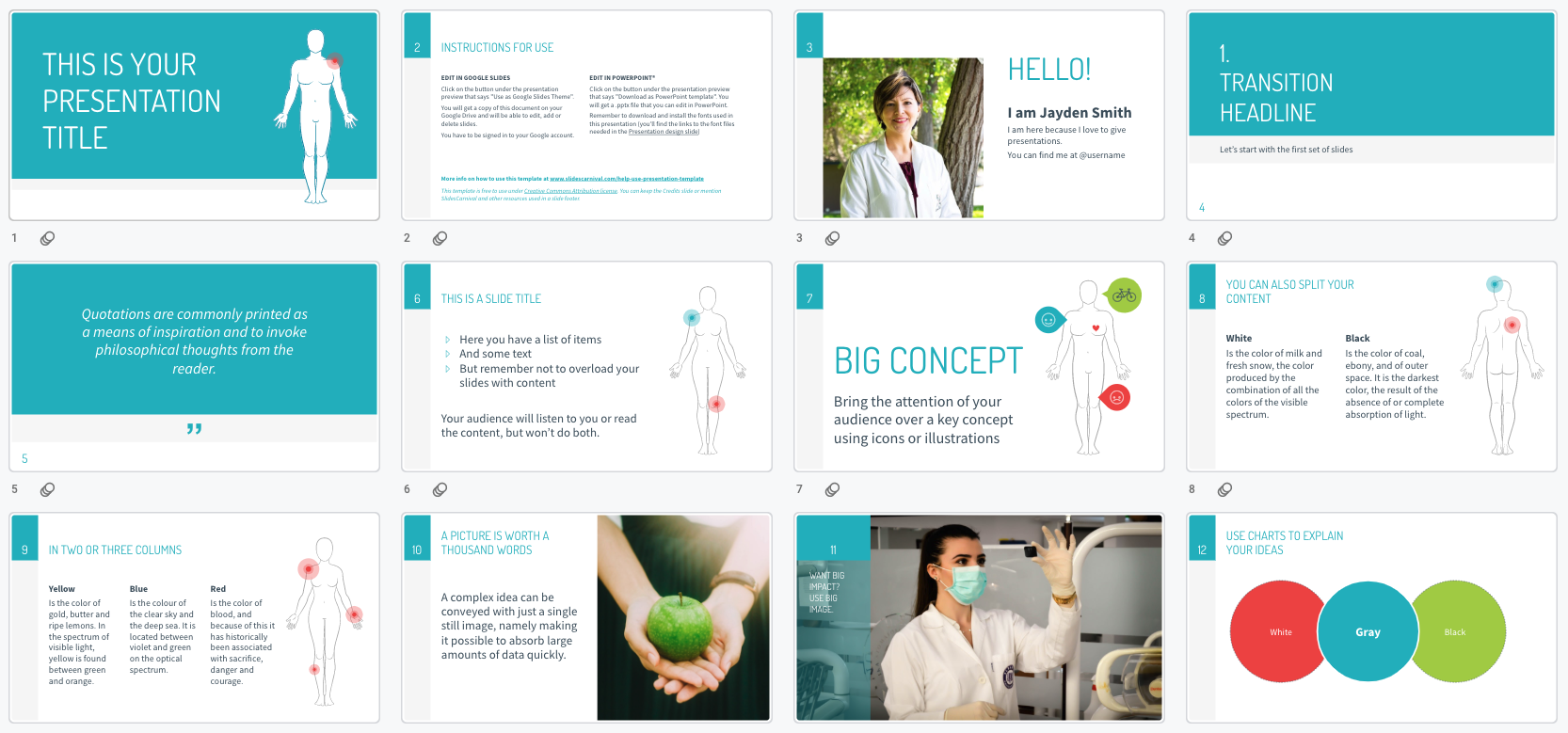 This template is designed for medical, health or fitness related topics. Human body illustrations are included in a way that can be easily used. The design is clean and simple, very easy to use.
---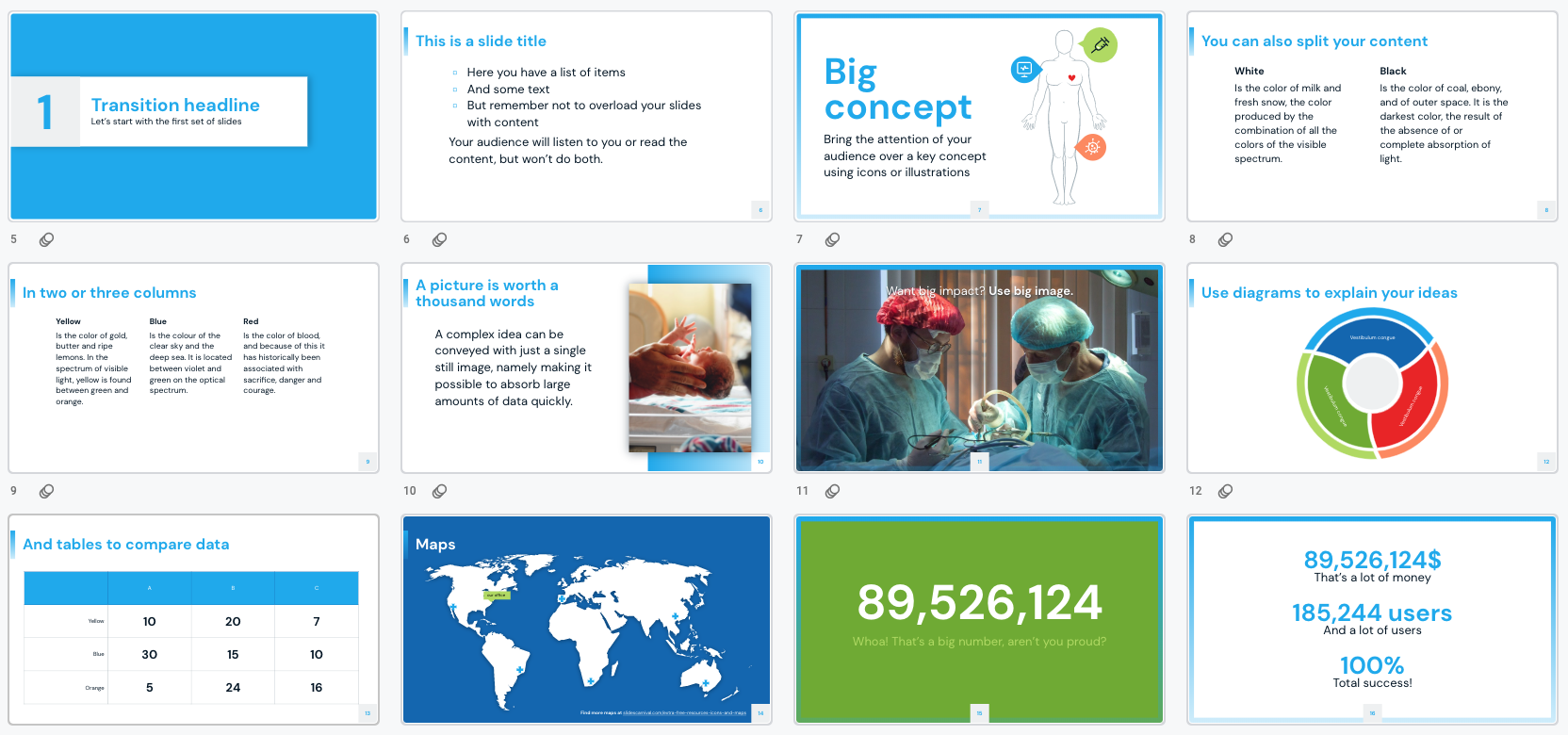 This template has been designed for use in medical presentations, so the style is simple to effectively communicate your message. Use it to present a clinical case, in a summit to unveil latest medical advances or simply to share your findings and information on a disease.
---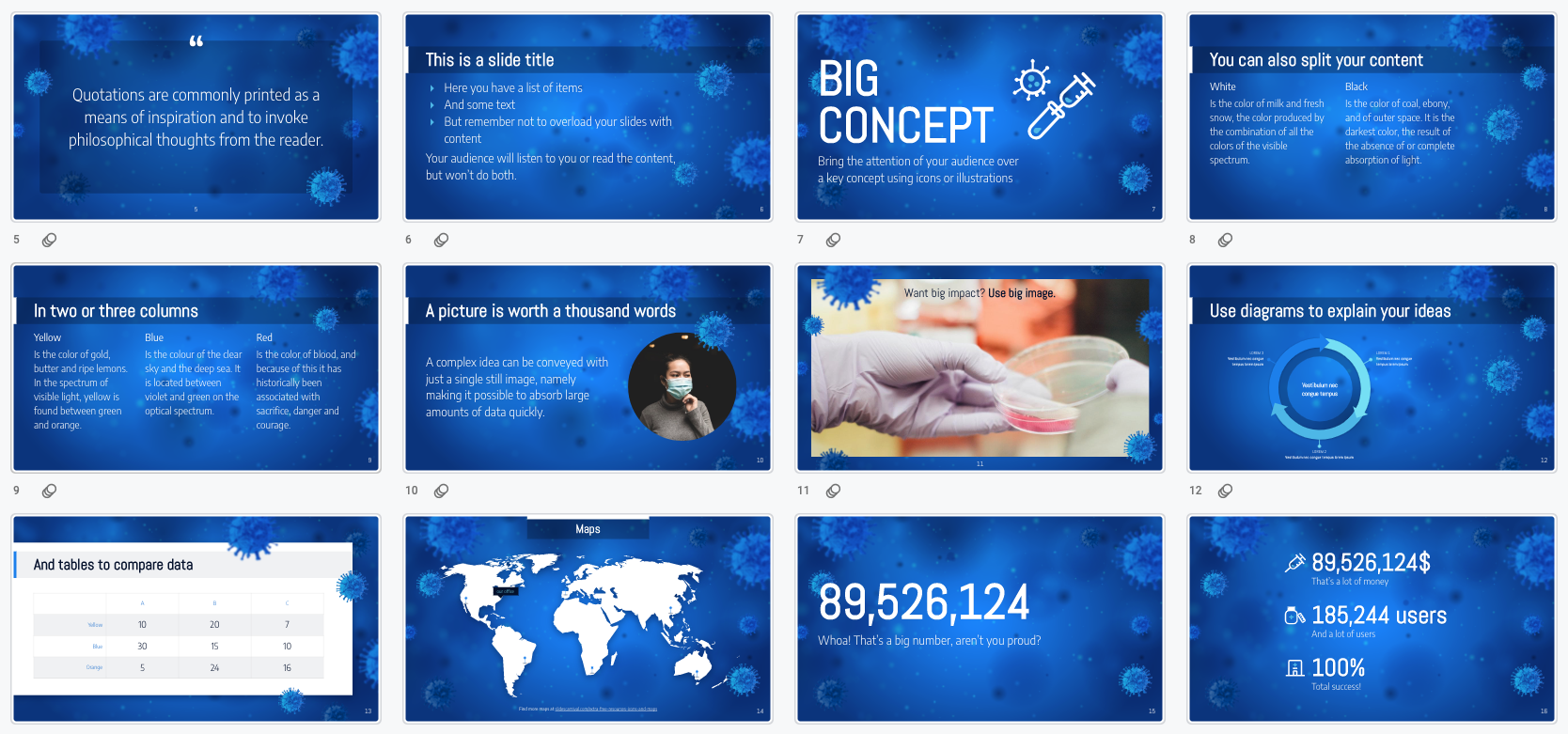 A professionally designed template for medical presentations. This design makes your message clear and reliable with its blue color to convey serenity and trust. Use it with confidence to make a presentation related to the healthcare industry, a medical research, disease outbreaks or clinical cases.
---
What are the advantages of ready-made Google Slides themes?
Design plays an important role in the success of your presentation, regardless of your industry or sector. The right presentation theme will engage your audience, and help you deliver the message or data in an easily digestible way.
Thing is, a lot of us enter presentation giving with a little trepidation. And public speaking is still a major phobia for a lot of people.
But you know what helps you feel more prepared and ready? Having a beautifully designed presentation deck to fall back on.
In a recent poll, 91% of participants agreed that they would feel more confident if they knew their presentation was beautifully designed, and 88% of people said they put "quite a bit" or "a huge amount" of effort into their presentations.
And that's why we love these lists of ready-made, free Google Slides themes. Each and every one can help cut back on the effort required, while still ensuring your presentation has a top-notch aesthetic.
The free Google Slides themes above will save you time, and offer you a boost in quality and flexibility. This is especially important if design is not your strong suit, or you simply don't have the bandwidth to create something of your own.
If you do have some prior experience with design, but still want to start with something that's close to finished, it's also good to know that Google Slides have recently added new design-savvy features to their themes. Now, users can apply a modern vector engine, to create highly customized layout designs.
To wrap this all up, it's also important to remember that presentations are about more than just conveying information. A great presentation — both in terms of content and design — shows your audience that you are a subject expert, have keen attention to detail, and stellar organizational skills.
After all, when your presentation looks and flows well, you bring everyone else along in the journey.