Want to create an eye-catching presentation? Then finding the perfect color combination is key.
Color is really important to a presentation. A great color scheme will make your slides look professional and polished. But that's not all.
Your color scheme can also help to set the mood of your presentation and attract the attention of your audience. Colors can even influence a viewer's perceptions and emotions.
So you want to get your presentation color scheme right!
But building a color palette doesn't just mean picking out colors you happen to like. If you don't have any design knowledge, choosing a winning color combination from scratch can be a real challenge.
That's why we've put together the following tips on presentation color schemes. Read on to discover how to combine colors in your presentation in a way that will elevate your message and move your audience (plus a few excellent ready-to-go color combos too!).
Download our PDF guide on how to pick colors to have it always at hand.
How do colors work together?
Why do some colors sit side by side harmoniously whilst others create a terrible color clash? The answer to this question lies in the color wheel.
Designers and psychologists have used the color wheel for centuries. But what is it?
Put simply, a color wheel is a circular model showing how different colors relate to one another.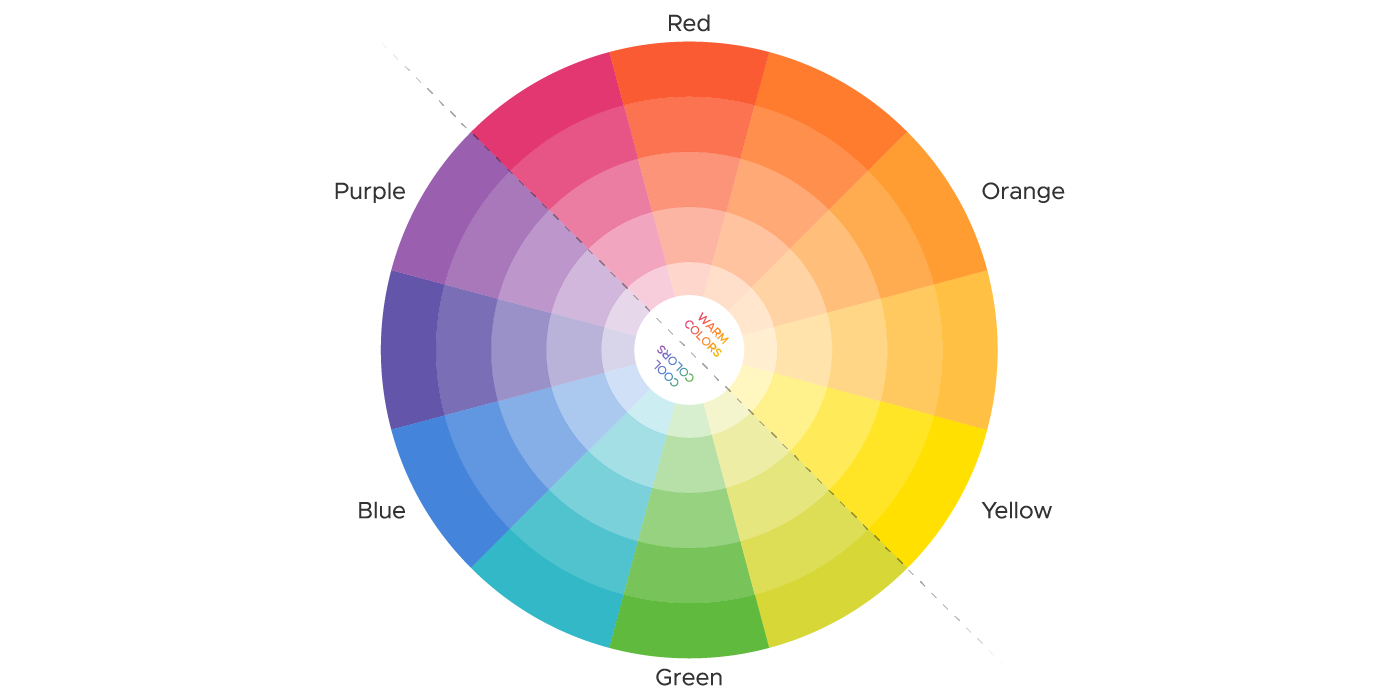 Using the wheel, we can easily find colors that look good together. And this helps us to design attractive color schemes!
Possible color schemes fall into three different categories:
Complementary colors
These are colors that sit opposite each other on the color wheel. They are always highly contrasting. But when paired together they look incredible!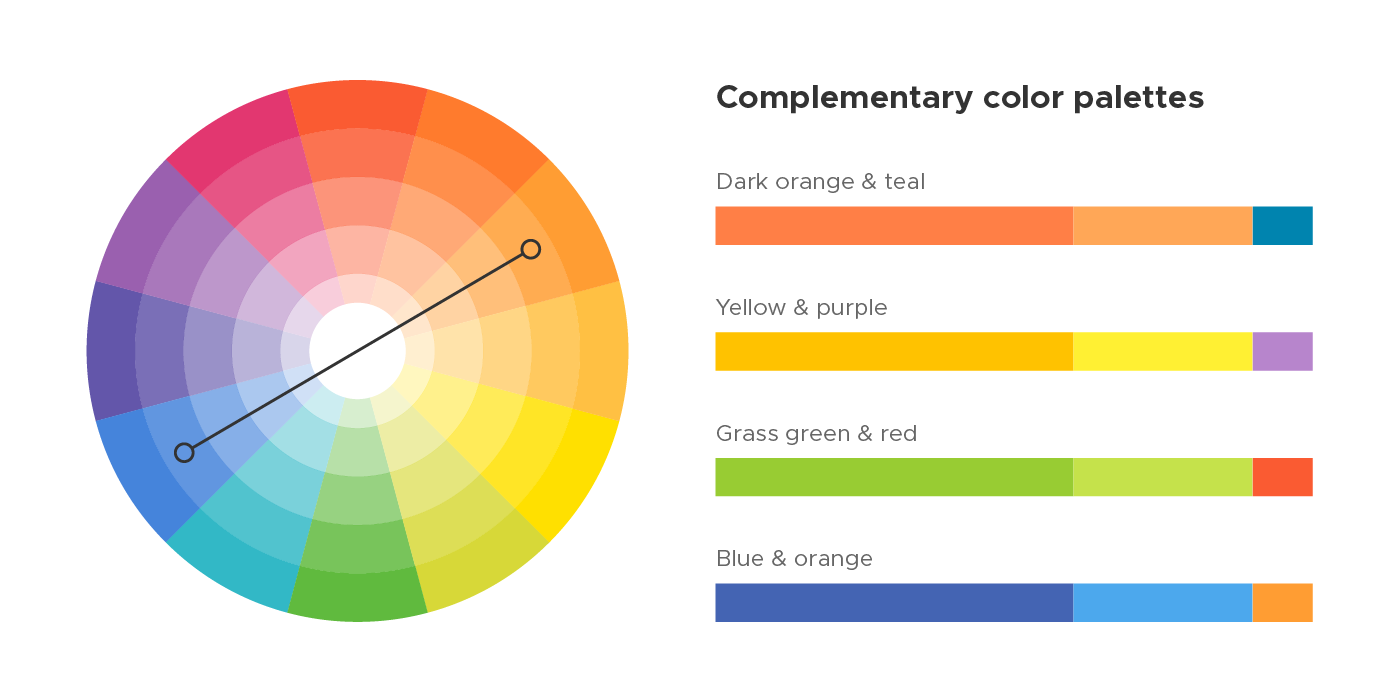 Triadic colors
These colors are equally spaced around the color wheel. They form an equal-sided triangle when you draw lines between them. This kind of color scheme creates a more balanced contrast than a complementary color scheme.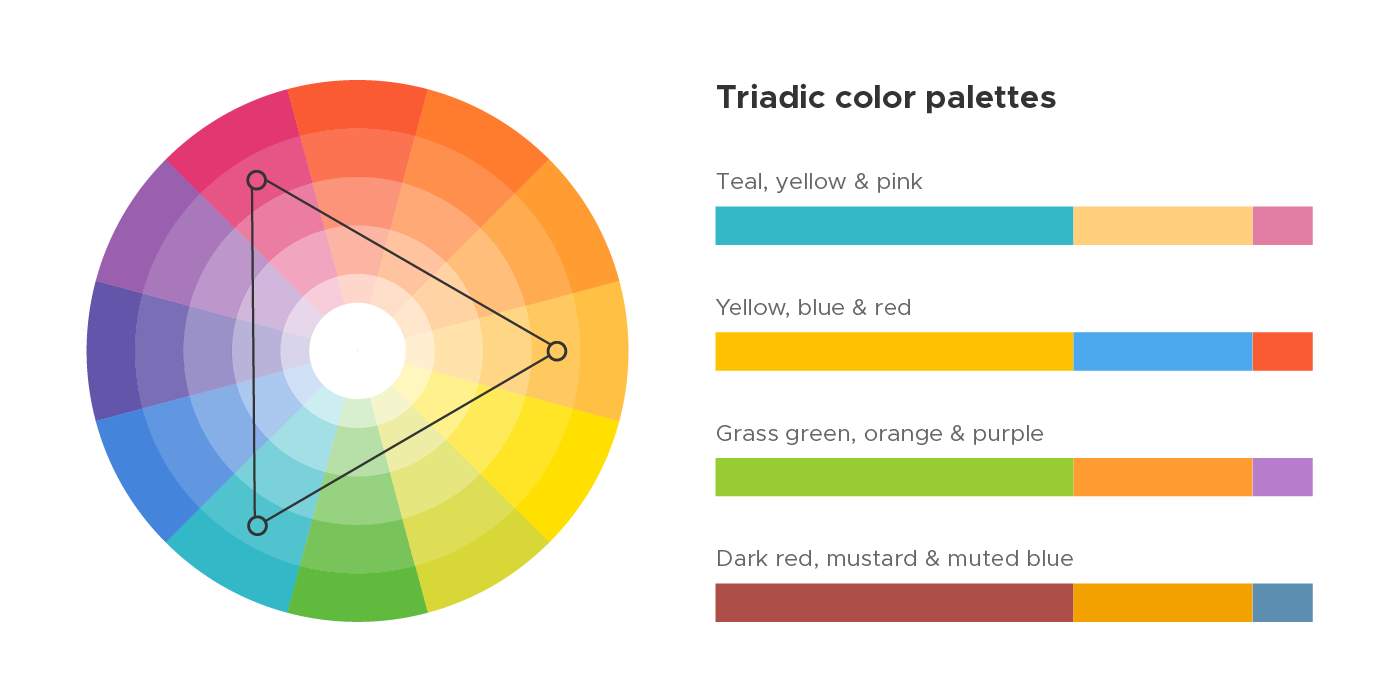 Analogous colors
This color scheme involves two to four colors that sit next to each other on the color wheel. Combine these shades and you get a soothing scheme, without the contrast that characterizes the previous two.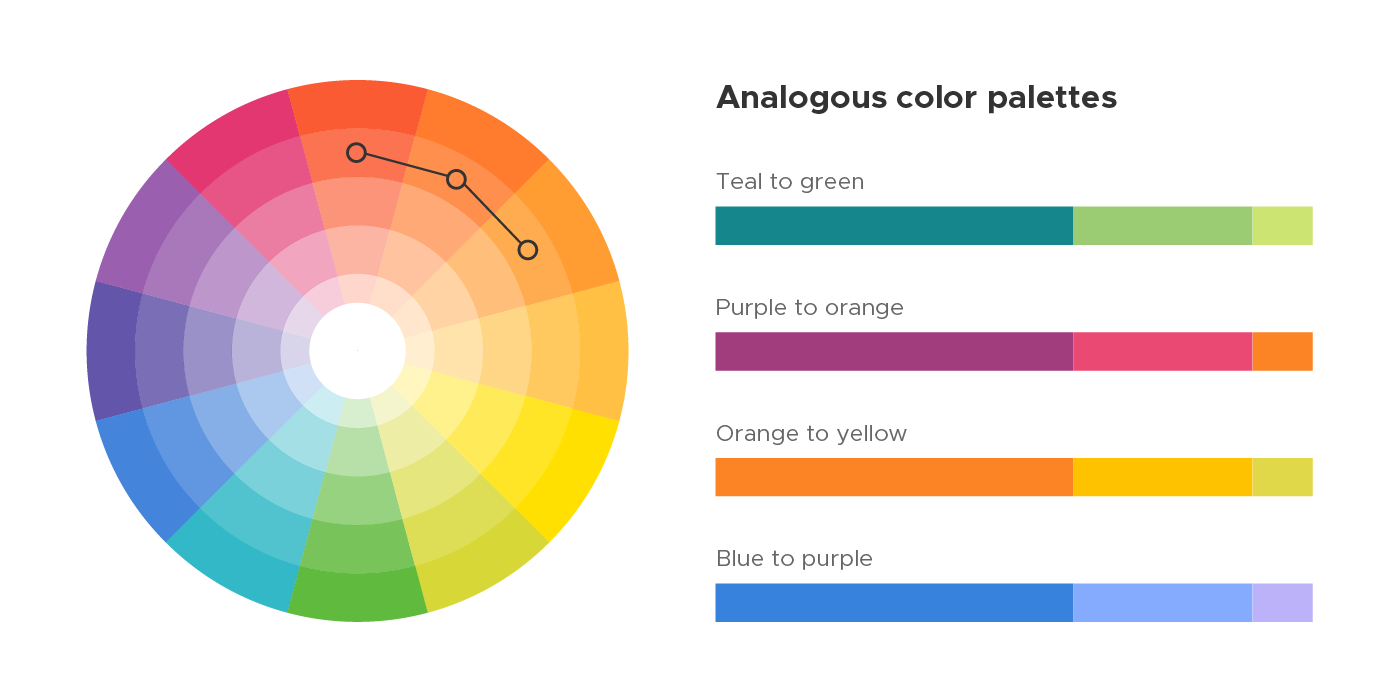 How to create a color scheme for your presentation
Now we know how the color wheel works, it's time to pick out a color scheme for your presentation. Bear all of the following points in mind to create a cohesive scheme that focuses, rather than confuses, your message.
Pick your colors
1. The dominant color
Firstly, we need to pick out the dominant color for your scheme.
Whilst the black or white background of your presentation slides may feel like the most dominant hue, we can discount it. Black and white are neutral colors that combine with all other colors.
So with black and white out of the equation, what should you pick as your dominant color?
Try to do a little reading around color theory before you just plump for a color you happen to like.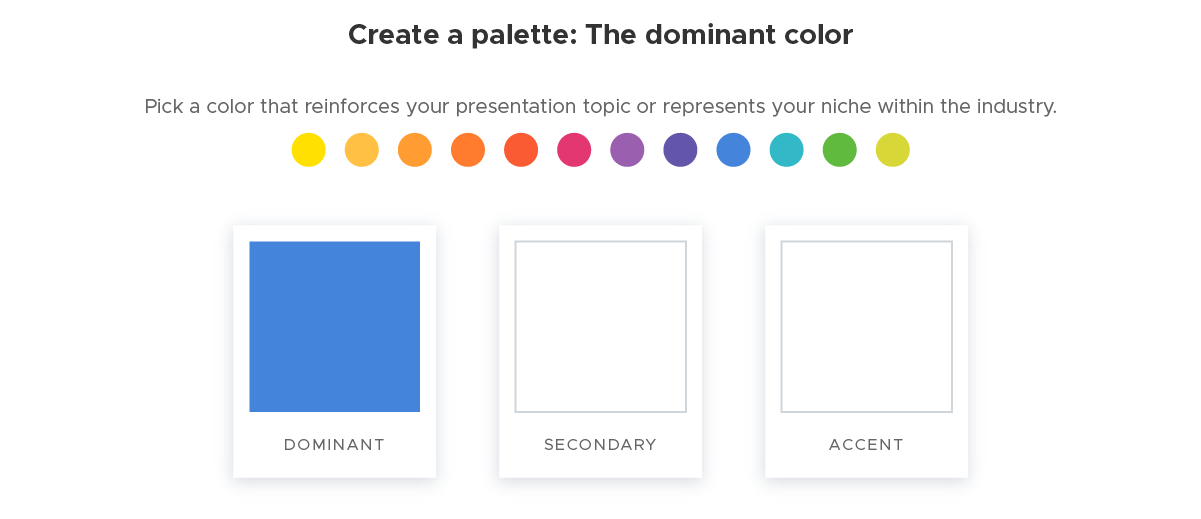 If you're not restricted to a set of standard brand colors, pick a dominant color that resonates with the beliefs and values of your audience. Pick a color that reinforces your presentation topic. Or pick a color that represents your niche within the industry.
This visual language will speak to your audience on a sub-conscious (and very effective) level. Clever use of color is a great way to communicate a message without you having to say a thing!
Some presentation designers leave it there. Great designs with big impact are sometimes just based around one bold color. But if you want to move beyond a monochromatic color scheme, it's time to pick out your secondary color.
2. The secondary color
The secondary color is the supporting actor in your color scheme. Its primary purpose is to make the dominant color look good! Analogous colors (colors that sit near to your dominant color on the wheel) make great color sidekicks.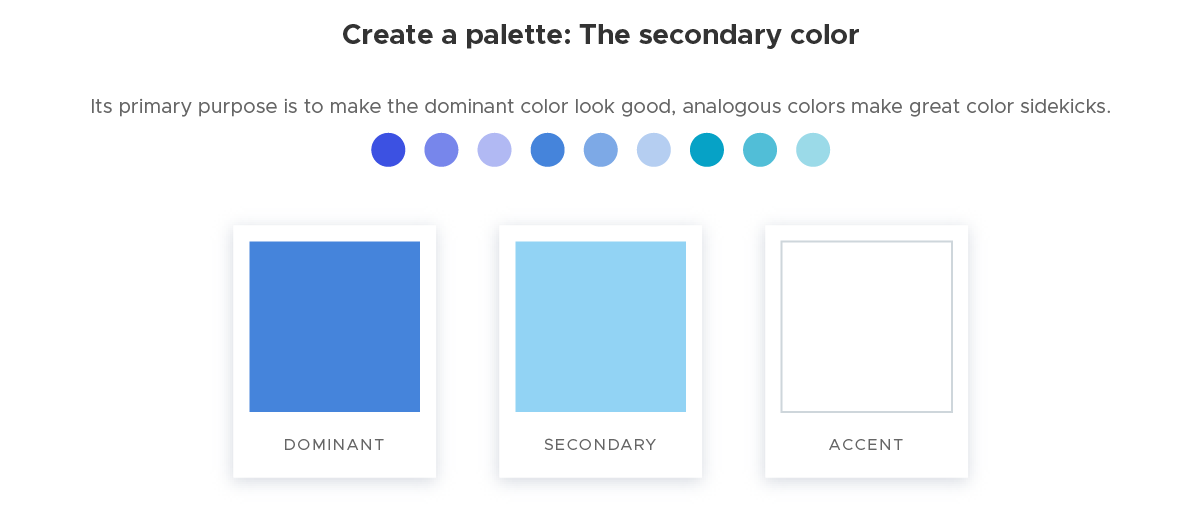 3. The accent color
Finally, we can pick an accent color. Your accent is used for emphasis, contrast, or to create rhythm within a presentation.
Revisit the color wheel to find your accent. A complementary color (one opposite the dominant color you've chosen) will work perfectly.
As you can probably see, accent colors are often bold and vivid. They have the potential to really overwhelm the eye, so try to use them sparingly (more on that in our next point).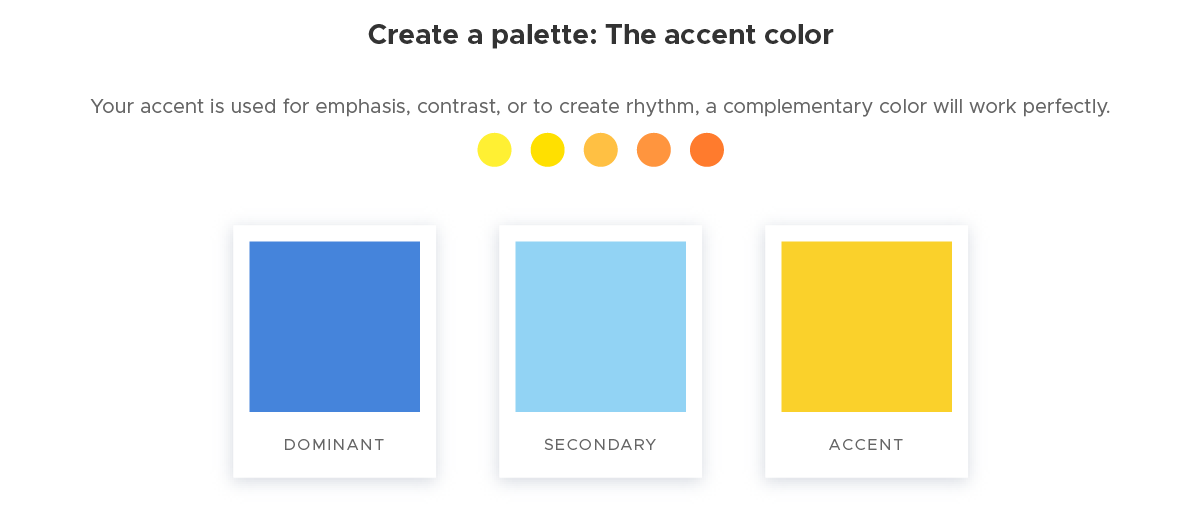 Keep colors in balance
Now you've chosen your colors you need to work out how you're going to use them. You can use colors to highlight text, reinforce your information hierarchy, or brighten an otherwise boring slide.
But in order to keep your colors looking good alongside each other, you need to keep them in balance. To do this, you should try to use the 60-30-10 design rule for each of your slides.

This means that the dominant color should account for around 60% of colorful elements on the slide. (Remember, this doesn't mean 60% of your entire slide! Just the colorful bits.)
The secondary color should be used for 30% of colorful elements.
And the accent color should only be used for around 10% of colorful elements. This ensures it's solely used for emphasis or contrast and isn't allowed to dominate.
This 60-30-10 split works well because it creates a sense of balance that's appealing to the eye. However, the rule isn't set in stone. Breaking the rule on occasional slides can help to create impact and avoid monotony.
A fourth color?
Sticking to just three colors is your best bet unless you're an expert designer. Combining more than three can get tricky and you're more likely to end up with a scheme that just doesn't work.
But if you feel that your presentation design needs more than three colors, there's an easy way to find one.
Try splitting your secondary color into lighter and darker tones. You could even try this process with your dominant color.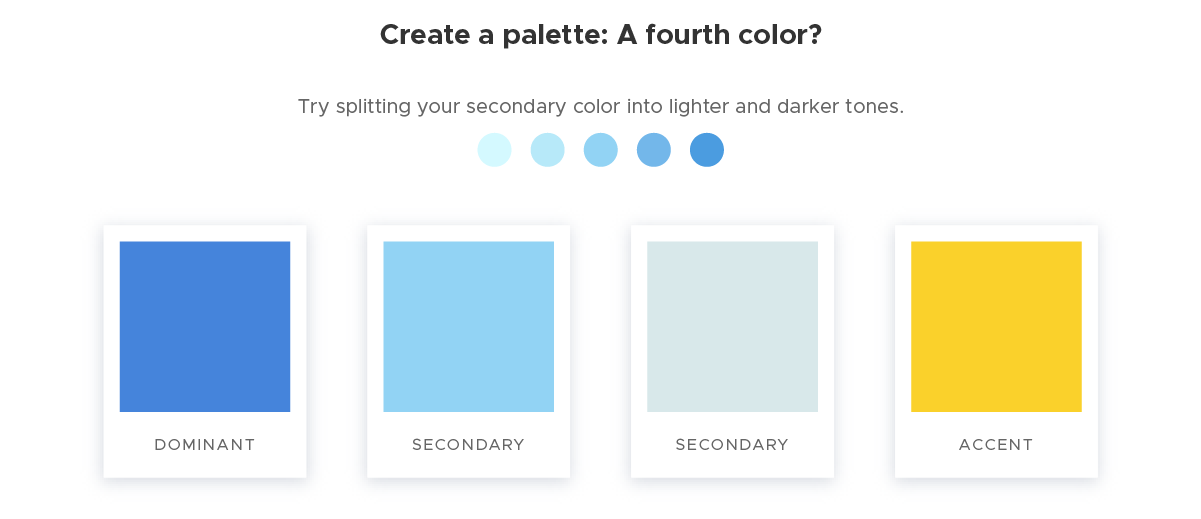 But leave your accent color alone. Splitting this color will leave you with a misaligned scheme that will stand out for all the wrong reasons.
And if you need to find those extra colors for elements like graphs and charts that fit in with your scheme, you can always try a palette picker of visually equidistant colors.
Use the theme color palette
When it's time to apply your color scheme to a presentation, use the theme color palette in either PowerPoint or Google Slides.
That way, you can adjust the colors easily and quickly, and changes will be applied to the whole of your presentation. Then, if you need to go back and tweak the scheme, you don't have to edit design elements individually.
If you need ready-made color palettes that work, check these 12 great color combo ideas for presentations (and a few examples of how they can be used in slides).
And remember that you can always visit the PowerPoint library or Google Slides library for deck templates and color schemes suited to any presentation situation.